Looking for 'Harry Potter' Halloween inspiration? These decoration ideas will blow guests away
Halloween is a time for "Harry Potter" fans to leave their muggle lives behind. Whether you're planning a spooky front yard display or a wizards-only gathering, these "Harry Potter"-inspired Halloween decorations and party ideas are sure to bring on the magic of Hogwarts this season. What's more, you can keep many of these featured items as collectibles.
Shop this article: LED Vintage Lantern Flickering Flame, Raycare Set of 24 Flameless LED Taper Candles and Cardboard People Harry, Hermione & Ron in Robes
Feature an iconic 'Harry Potter' scene or setting
Potions class in the dungeons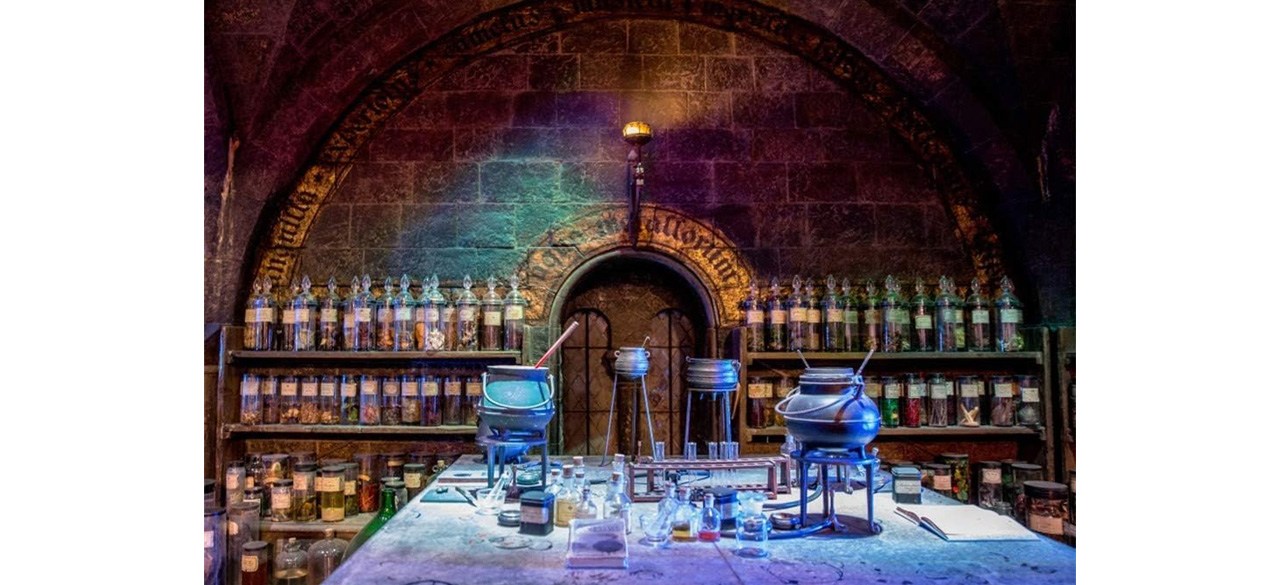 Aofoto 7-by-5-Foot Chemistry Laboratory Background
The dreary dungeon setting where Hogwarts students study potion-making is perfect for a Halloween party. Hang this potions class backdrop and have a life-size Severus Snape cutout glower at your party guests. Drape your food and drinks table with a black tablecloth and put snacks in these cauldron and skull candy bowls. Display this Felix Felicis potion replica and complete the setup with these small vintage bottles and potion labels.
The Forbidden Forest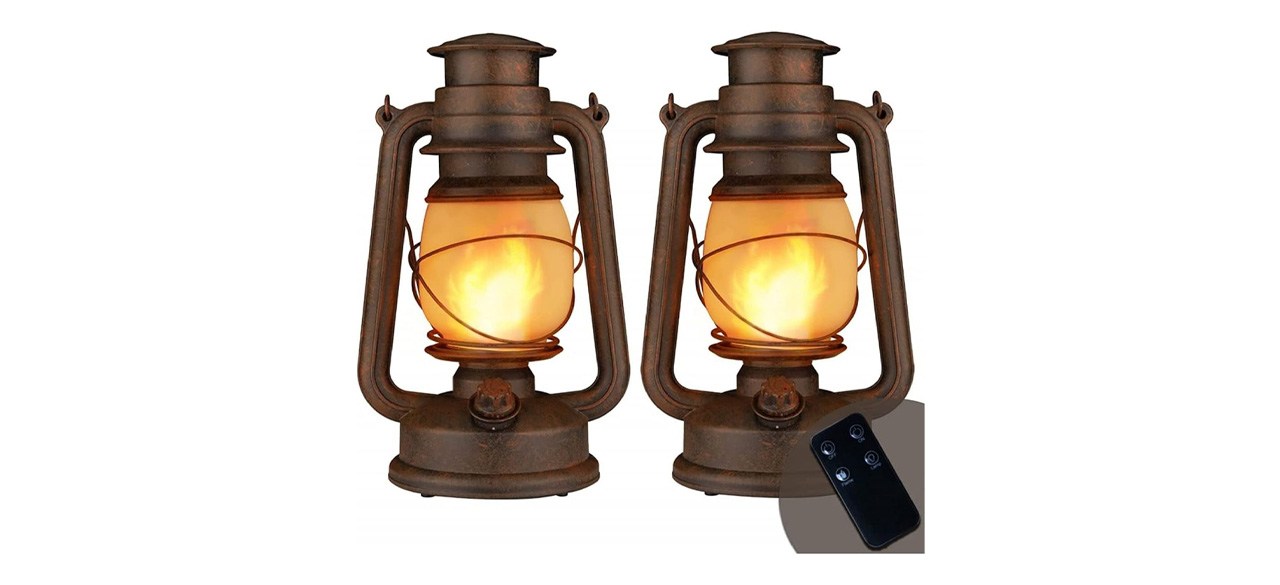 LED Vintage Lantern Flickering Flame
Some of the most terrifying parts of the "Harry Potter" series take place in the Forbidden Forest, home to many dark and dangerous creatures. You can create a Forbidden Forest display indoors or outdoors. For an indoor display, put up a gloomy forest backdrop to set the scene. Hang vintage-style lanterns and this Grim Reaper figure resembling a dementor. Re-create Aragog the Acromantula's lair with these giant spiders and stretchy fake cobwebs, and serve food on this Gothic-inspired tablecloth.
Harry and Voldemort face off in the graveyard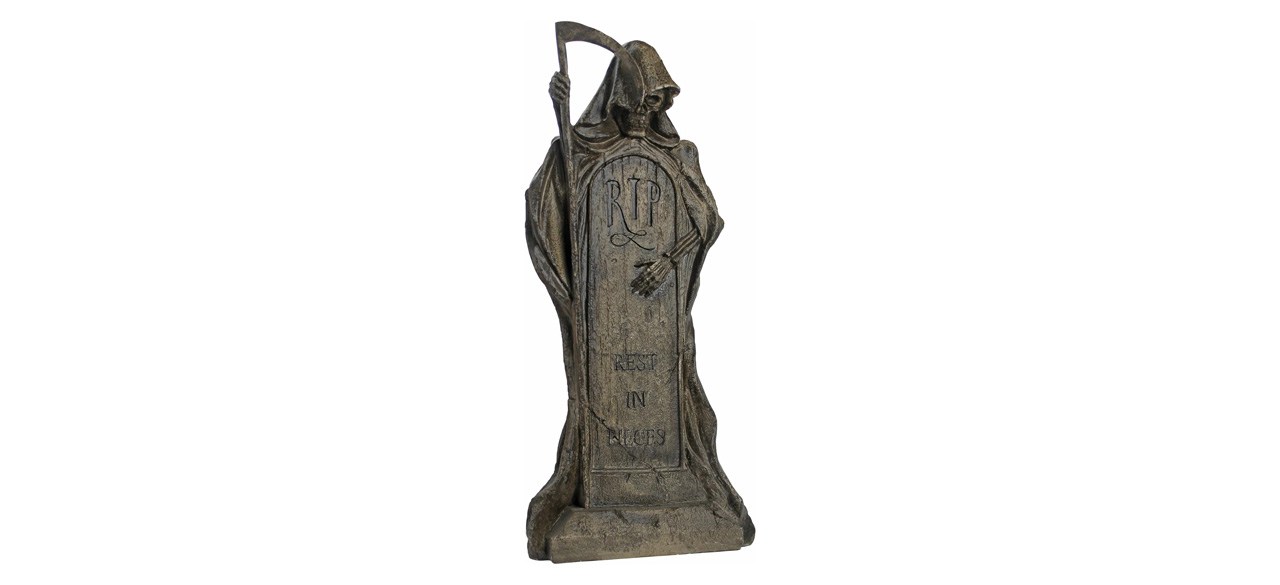 Design Toscano Rest in Pieces Grim Reaper Halloween Tombstone
The legendary scene in which Lord Voldemort returns and fights Harry in the graveyard after the Triwizard Tournament would make an epic yard display. Place these life-size Harry Potter and Lord Voldemort cutouts in your front yard. Set this Tom Riddle gravestone and Grim Reaper statue nearby, along with the Triwizard Cup and a large cauldron that looks like the one Voldemort emerges from. Scatter this tombstone set around the lawn and top the headstones with creepy crows.
Platform Nine and Three Quarters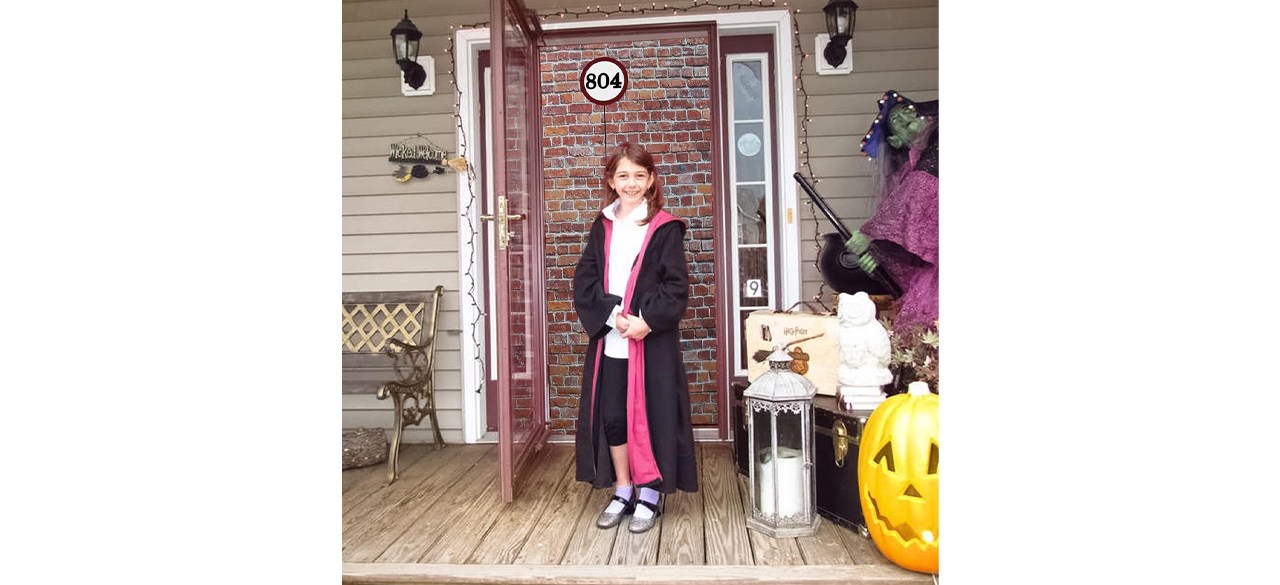 Platform Nine and Three Quarters at King's Cross Station is where young witches and wizards begin their journey to Hogwarts. Party guests can enter the magical platform through this red brick wall curtain backdrop. Put up this Platform Nine and Three Quarters wall sign and Hogwarts Express train compartment backdrop, and complete the look with this set of vintage-style prop suitcases. You can serve food and drinks with this rustic bar cart, Trolley Witch style.
The Great Hall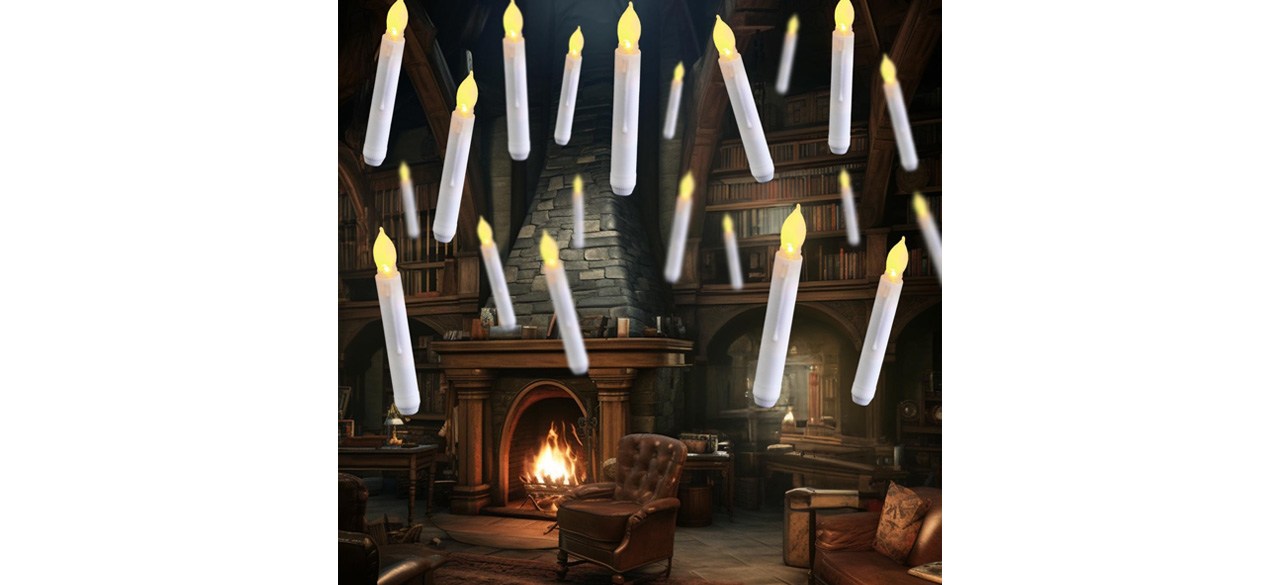 Raycare Set of 24 Flameless LED Taper Candles
Every Halloween, Hogwarts students enjoy a sumptuous feast in the Great Hall. Use a star projector to mimic the enchanted ceiling and hang floating LED candles and pumpkin lanterns. Drape your food and drinks table with a faux wood tablecloth to mimic the house tables, and have guests use gold plates, cutlery and goblets just like those in the Great Hall. Hang up Hogwarts house banners and fire bowl lights, and decorate the walls with bat decals.
Gryffindor Common Room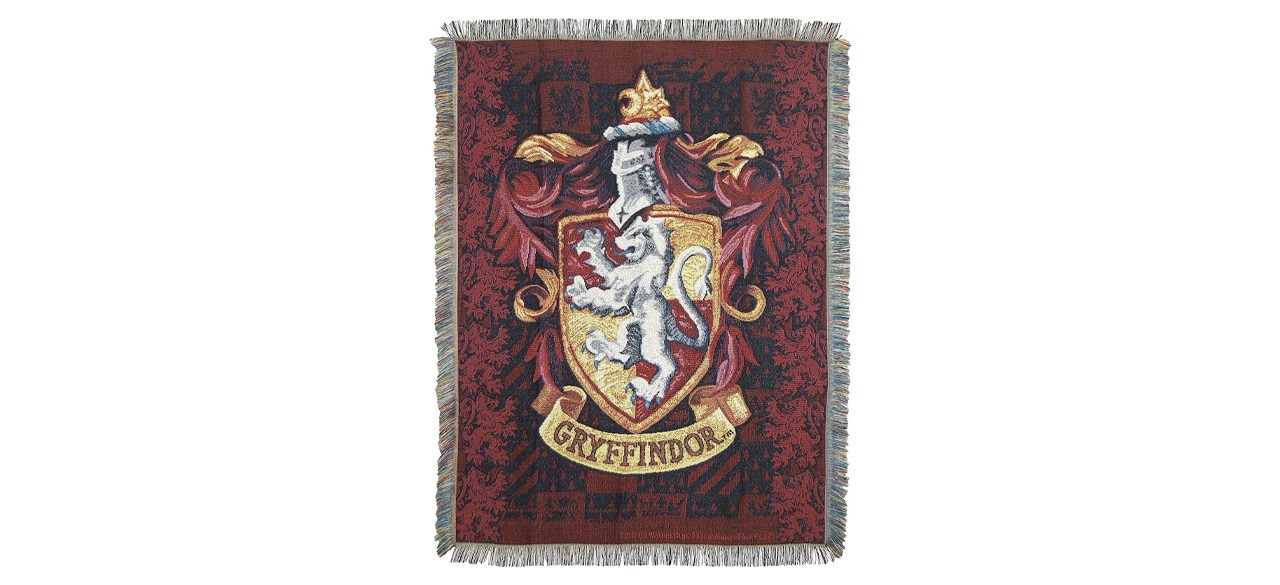 Northwest Woven Tapestry Throw Blanket, Gryffindor Shield
You can bring the cozy atmosphere of the Gryffindor common room to your Halloween party with this themed backdrop. Hang this Gryffindor coat of arms tapestry and Gryffindor common room entrance poster featuring the Fat Lady. Cover your food and beverage table with a festive red and gold tablecloth to match the Gryffindor house colors.
Hogwarts Library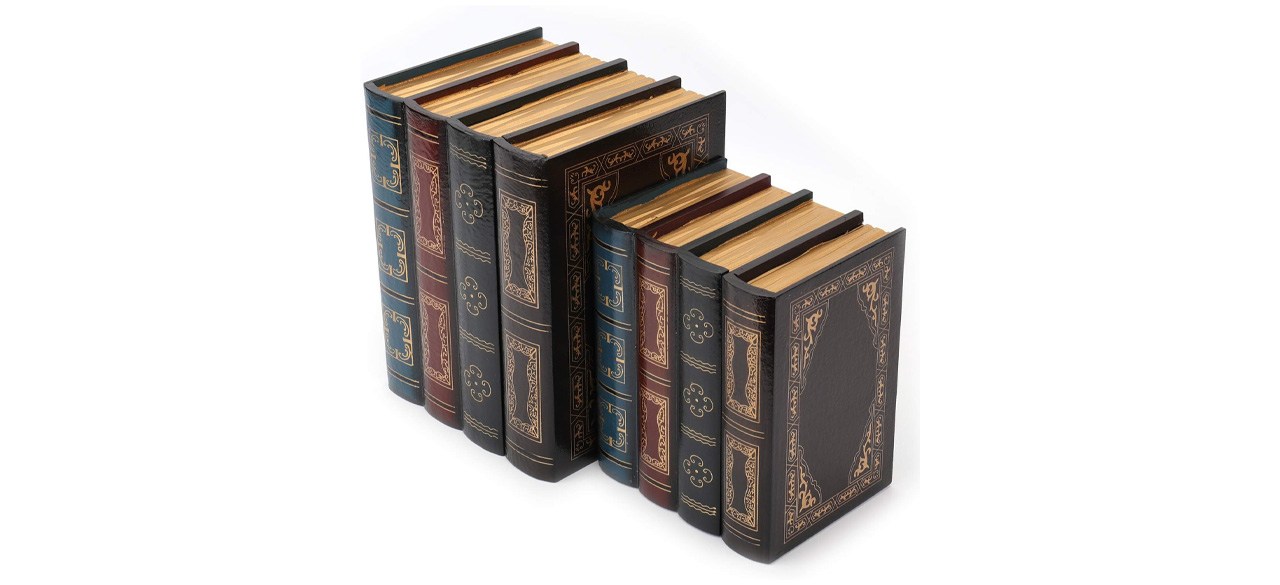 Tosnail Two-pack Decorative Book Boxes
Re-create the formidable Hogwarts Library with this magical bookshelf backdrop and vintage book decor. Add a "Monster Book of Monsters" replica for a subtle nod to Hagrid's Care of Magical Creatures class.
More 'Harry Potter' Halloween ideas
Quidditch corner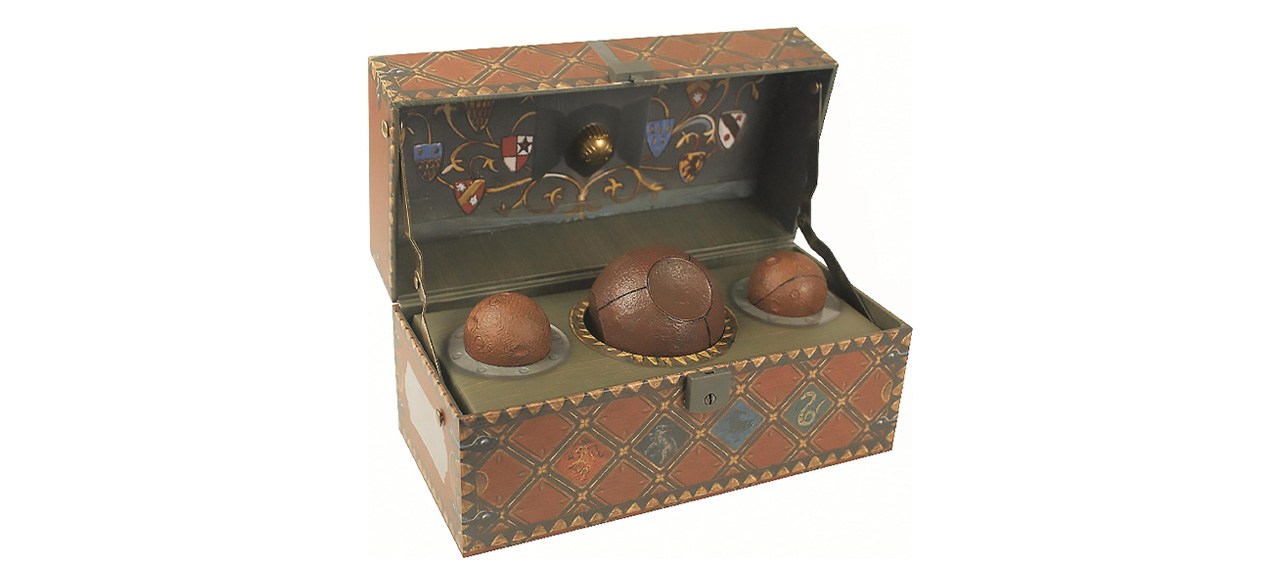 Harry Potter: Collectible Quidditch Set — Accessory
A Quidditch display can liven up a corner of your party room. With Harry's Nimbus 2000 broom and this Quidditch box set containing a quaffle, bludgers and the golden snitch, you're all set.
Ghost light show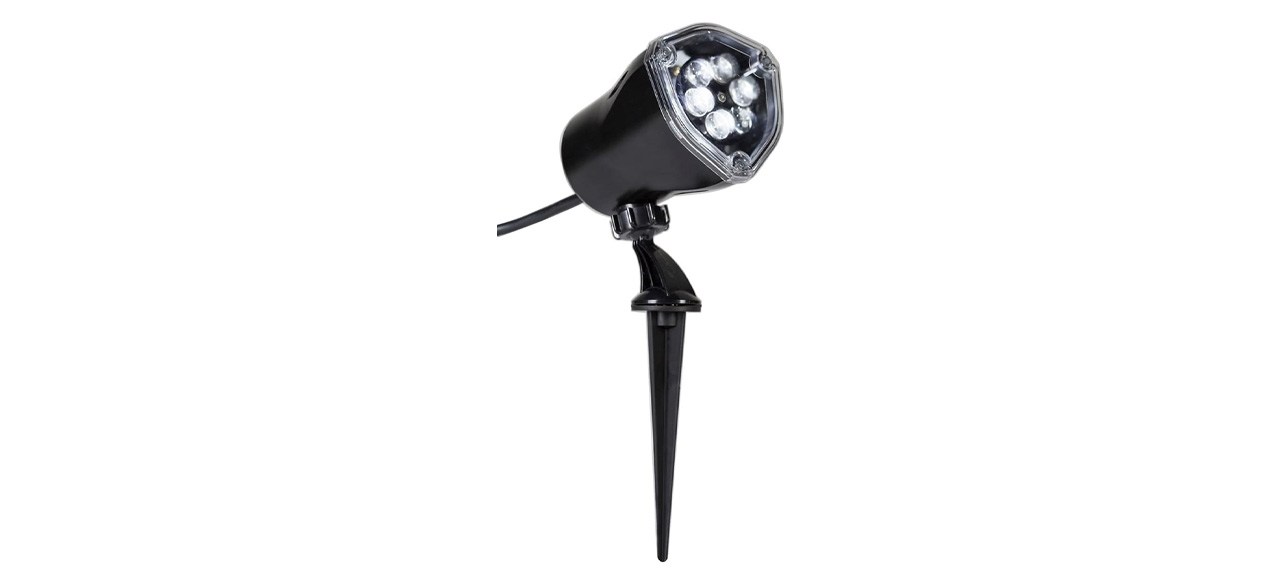 Gemmy Industries Hk Chasing Ghosts Lightshow Projector
The spirits that haunt Hogwarts Castle add to its unique character. This ghost projector creates an ethereal light show and will give trick-or-treaters a real scare.
Themed food and drinks table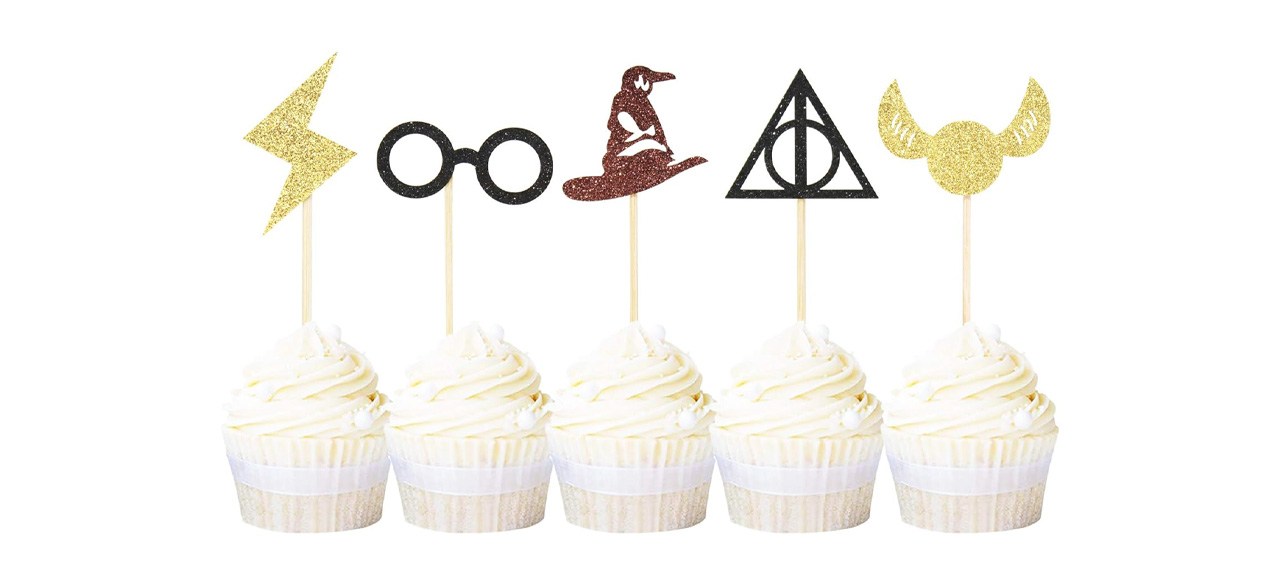 Ercadio 30-pack Wizard Cupcake Toppers
Start by covering your table with a Hogwarts-themed tablecloth. Create DIY golden snitches by topping Ferrero Rocher chocolate with these tiny winged cupcake toppers. Decorate snacks with wizard-themed cupcake toppers and food labels. Serve classic Bertie Bott's Every Flavor Beans and Butterbeer drinks. Make treats with these chocolate frog molds and consult this "Harry Potter" cookbook featuring recipes for classic dishes from the series, such as Harry's favorite treacle tart and delicious pumpkin pasties.
Horcrux display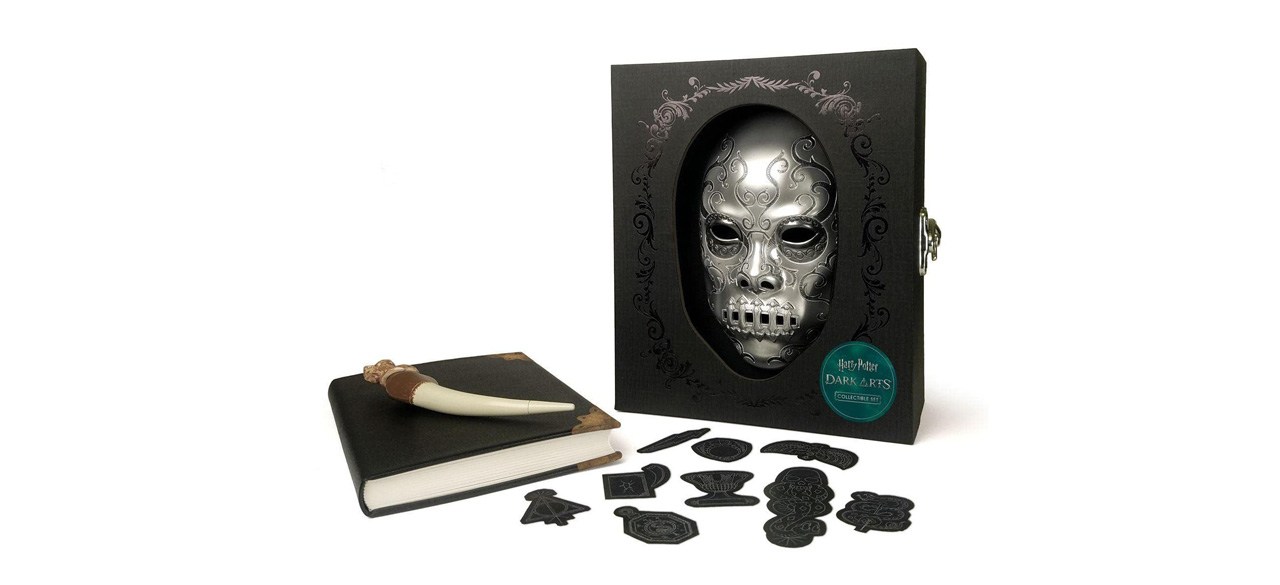 Harry Potter Dark Arts Collectible Set
Voldemort's Horcruxes are a testament to his evil nature and make a great themed display. You can assemble the collection with Salazar Slytherin's ring and locket; Helga Hufflepuff's cup; Rowena Ravenclaw's lost diadem; this wall-mounted snake head representing Nagini; a Dark Arts collectible set featuring a Death Eater mask, Tom Riddle's diary and a basilisk fang; and for the final Horcrux Voldemort never meant to make, a life-size cutout of Harry himself.
'Harry Potter' wall decor
Life-size character cutouts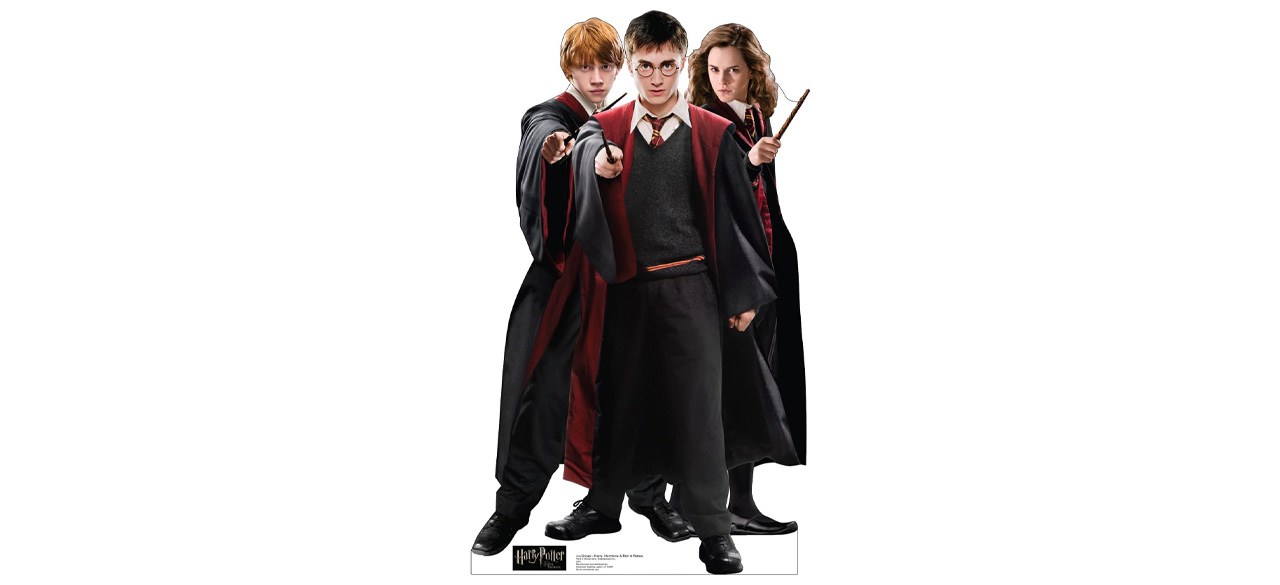 Cardboard People Harry, Hermione and Ron in Robes
Life-size cutouts of famous "Harry Potter" characters will help create a magically immersive experience — they're also great for posing with and taking memorable photos. You can find cutouts featuring a variety of characters, including Albus Dumbledore, Professor McGonagall, Draco Malfoy, Bellatrix Lestrange, Cedric Diggory, Luna Lovegood, Dobby the House Elf and Harry, Ron and Hermione.
Props and collectibles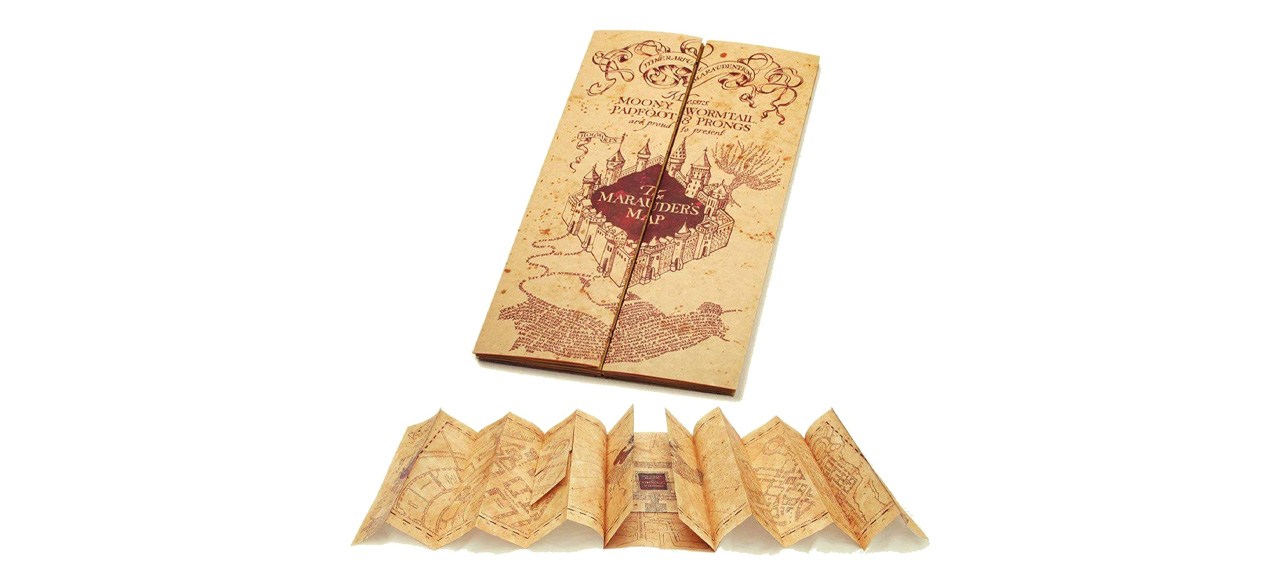 If you're obsessed with the "Harry Potter" series, throwing a themed Halloween party is the perfect excuse to start or add to your collection. Aside from the objects we've already featured, there's the Philosopher's Stone, Hermione's Time Turner, the Marauders Map, the Sorting Hat, various magic wands, a Chocolate Frog with a Dumbledore trading card, a Wizard's Chess set, Mandrake plant and Hedwig plush.
Worth checking out
Want to shop the best products at the best prices? Check out Daily Deals from BestReviews.
Sign up here to receive the BestReviews weekly newsletter for useful advice on new products and noteworthy deals.
Amy Evans writes for BestReviews. BestReviews has helped millions of consumers simplify their purchasing decisions, saving them time and money.
Copyright 2023 BestReviews, a Nexstar company. All rights reserved.