You no longer need to book an expensive facial to experience high-quality facial steaming. Home facial steamers now offer the same powerful steam for your face as you get in a spa or from an aesthetician.
Be aware, though: to safely steam your face at home, you'll need to know your skin type. Steaming is not appropriate for everyone, especially if you have skin conditions.
In this article: Ezbasics Ionic Facial Steamer, Pure Daily Care NanoSteamer 3-in-1 and Conair True Glow Warm Steam Moisturizing Mist Facial Sauna System.
TIP #1: DETERMINE YOUR SKIN TYPE
When used properly, a home facial steamer is appropriate for normal, combination, dry, oily skin, mature and some sensitive skin types.
Normal skin is considered well-balanced and doesn't produce excess oil or get too dry. Steaming is appropriate once or twice a week.
Oily skin produces more sebum, your skin's natural oil, than normal. Oily skin is more prone to blackheads and pores clogged with oil, which steaming loosens. With oily skin, you can steam twice or three times a week.
Combination skin is characterized by having both oily and dry skin in different zones of the face. If you have a lot of blackheads or clogged pores in a specific part of your face, direct the nozzle of the steamer there.
Dry skin is skin that doesn't produce enough sebum. While steaming provides hydration, too much steaming can strip your skin of its natural oils. Steam just once a week if you have dry skin.
Sensitive skin may not be able to tolerate steaming. Because steaming dilates your blood vessels, it can cause excessive redness in people with sensitive skin and should be used with caution.
Mature skin tends to be drier than normal. Steaming increases blood flow to the skin, which results in a healthy glow. It can also help build elastin and collagen, both of which diminish as we age.
TIP #2: CLEANSE YOUR FACE BEFOREHAND
Before you steam, you'll want to wash your face with a cleanser. This removes excess dirt, product and grime so they don't make their way into your open pores during steaming.
TIP #3: USE DISTILLED WATER
Once your face is prepped, it's time to prep your steamer. While the steamer is unplugged, fill its reservoir with distilled water. Don't add essential oils, flower petals or herbs unless your steamer has a designated basket for them. Distilled water is safer for the device as well as purer for your skin, which will absorb the steam.
TIP #4: STEAM FOR LESS TIME AT FIRST
Once everything is prepped, plug in your steamer and wait for the micro-mist to come out of its nozzle. Don't position your face any closer than 8 inches to avoid burns. When steaming for the first time, or if you have sensitive skin, steam for 3 to 5 minutes in the beginning. Once your skin gets used to it, you can steam up to 10 minutes.
TIP #5: EXFOLIATE YOUR SKIN RIGHT AFTERWARD
Steam's heat and humidity soften dead skin cells and clogged pores, making them easier to remove afterward. Use an exfoliating scrub or dampened exfoliating washcloth to sloth off the loosened debris to reveal fresh, radiant skin underneath. Steaming your skin also increases blood flow, giving you a healthy glow.
TIP #6: FOLLOW UP WITH YOUR FAVORITE SKIN CARE PRODUCTS
One of the benefits of steaming is that your skin is more receptive to products afterward, which is why steaming is usually the first step in a professional facial. Follow your steaming session with:
A facial mask with skin-nourishing ingredients penetrates skin deeper after steaming.
A facial toner helps close pores that have opened during steaming so that impurities don't sneak in and cause breakouts.
A facial moisturizer is the last product to apply to your skin after steaming to lock in moisture.
BEST FACIAL STEAMERS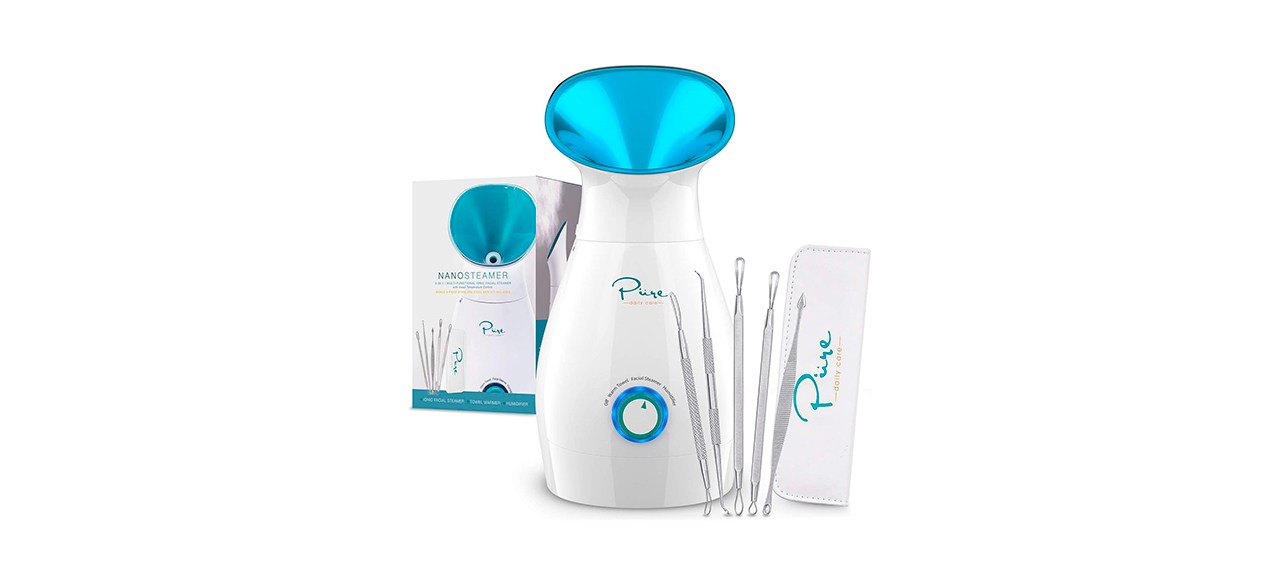 Pure Daily Care NanoSteamer 3-in-1
This versatile steamer can also be used as a towel warmer and a room humidifier. It comes with a five-piece set for facial extractions. Its large water tank allows 30 minutes of silent run time.
Sold by Amazon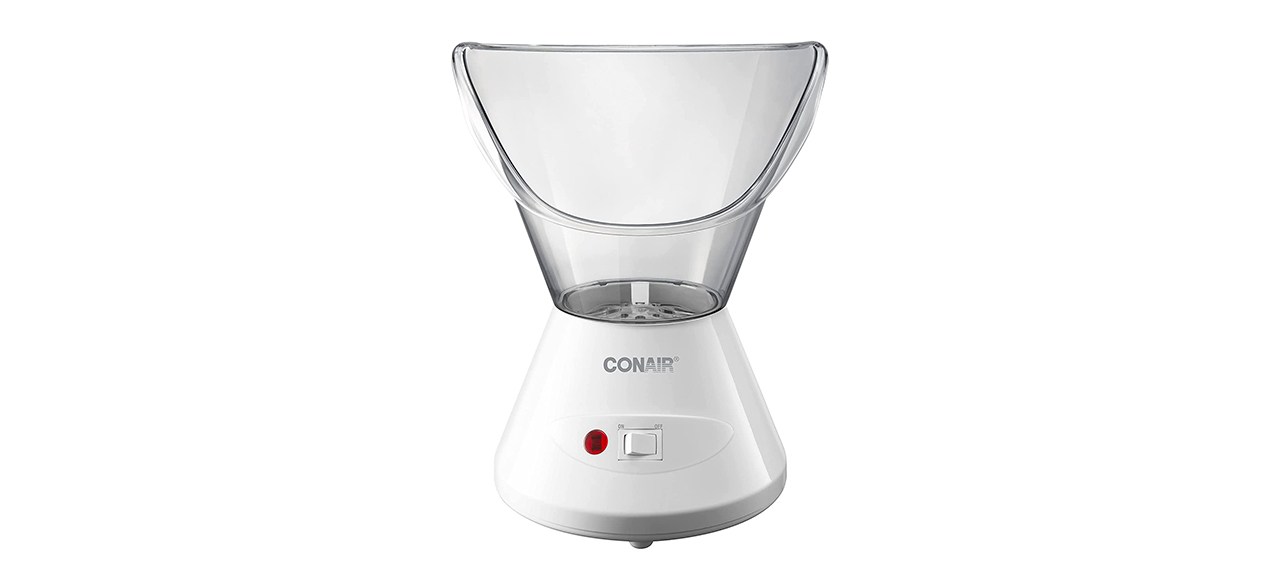 Conair True Glow Warm Steam Moisturizing Mist Facial Sauna System
This steamer not only opens your pores but helps open your sinuses to relieve sinus congestion. At a great value, it comes with a nasal cone for concentrated steaming, an exfoliating brush and a moisturizer sponge.
Sold by Amazon and Ulta Beauty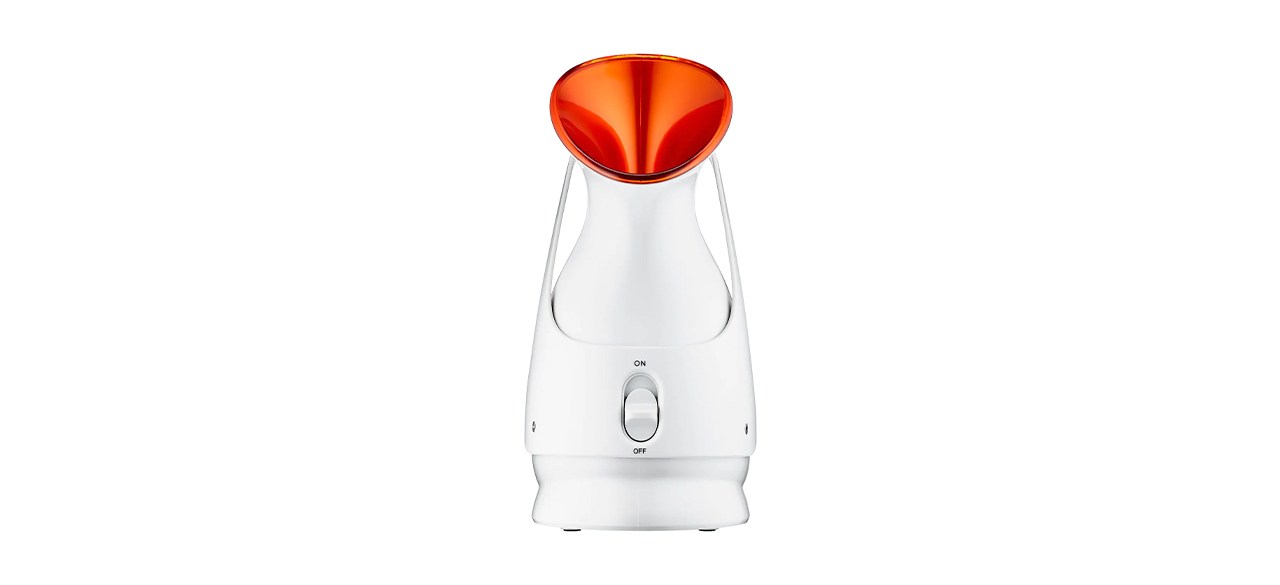 Dr. Dennis Gross Pro Facial Steamer
This professional-grade facial steamer is worth every penny. It takes your skin care to the next level and makes visible improvements to the skin, including minimizing pores, increasing the potency of moisturizers and increased hydration.
Sold by Sephora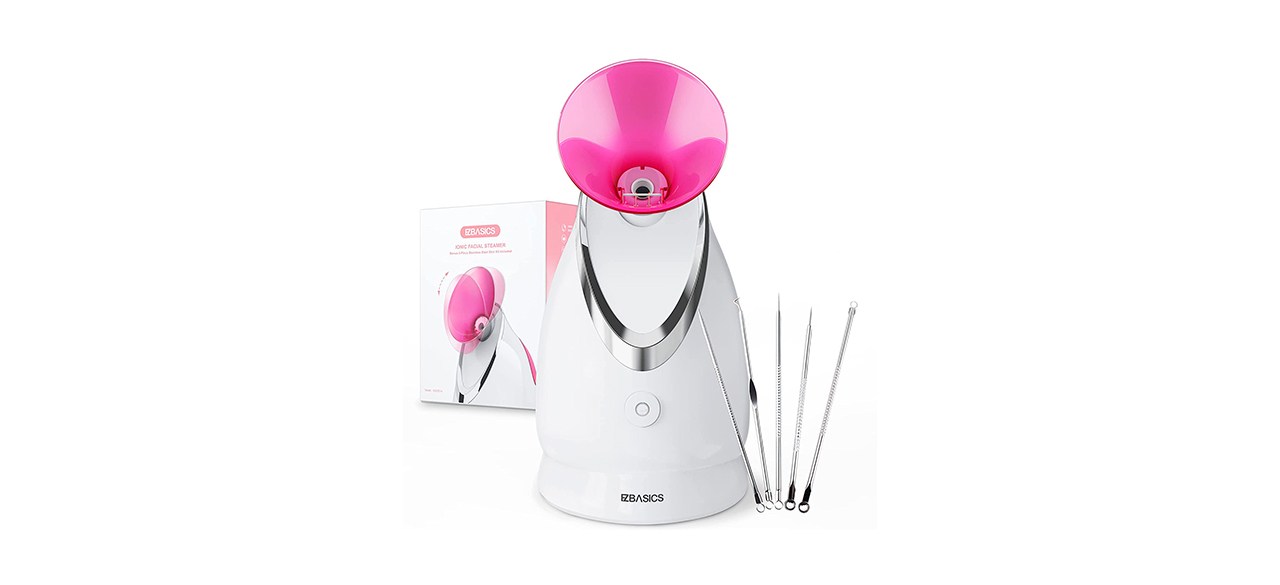 This popular steamer comes with an adjustable nozzle in six color choices and lets you adjust the mist's direction. The steam flow is strong. There's a compartment for essential oils that's helpful for nasal congestion.
Sold by Amazon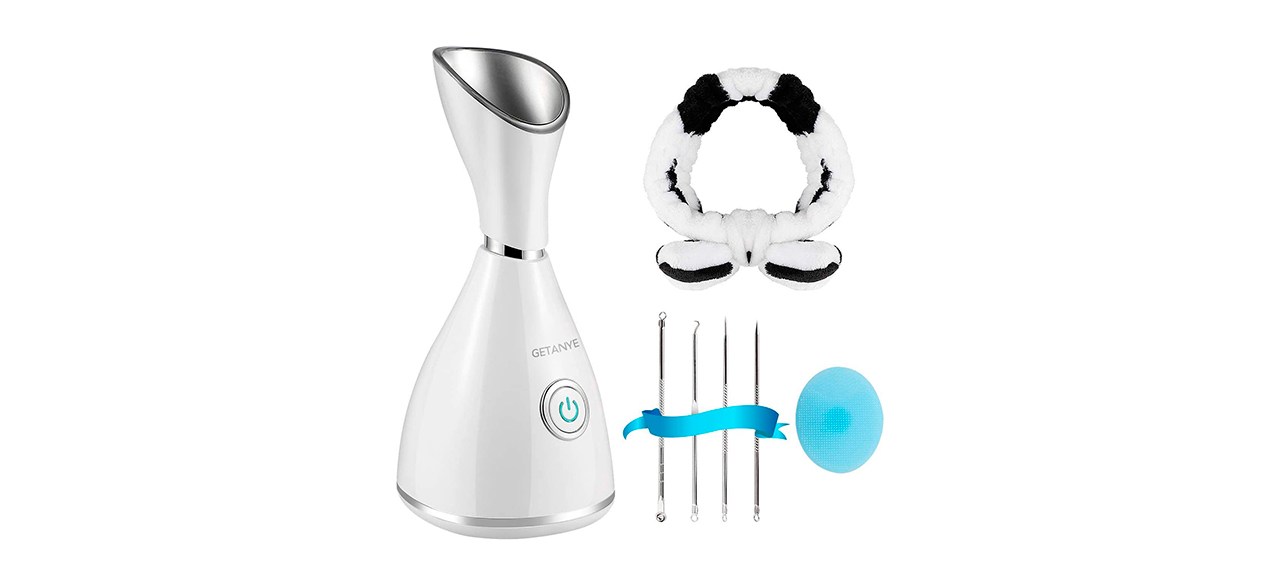 Getanye Nano Ionic Face Steamer
Complete with a cute headband, this comprehensive steaming set is a good value. After steaming, your face feels soft and supple. It comes with four facial tools for DIY extractions.
Sold by Amazon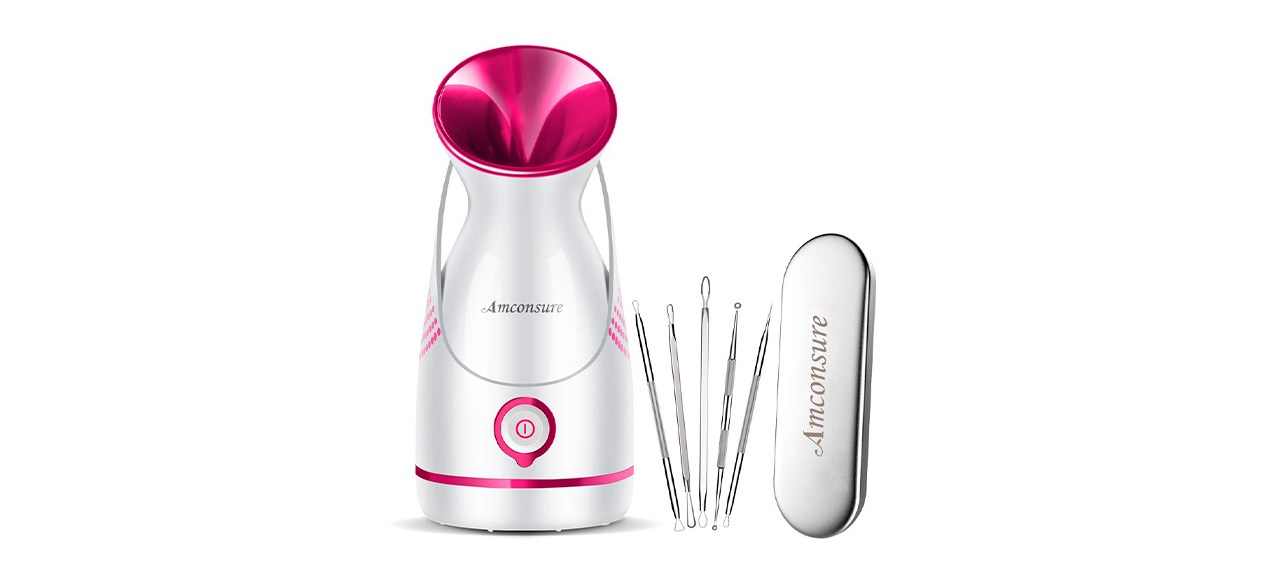 Amconsure Nano Ionic Facial Steamer
Add this device to your skin care routine for added hydration as well as relaxation. The warm mist is soothing and helps open pores and sinuses. The steamer can last for years.
Sold by Amazon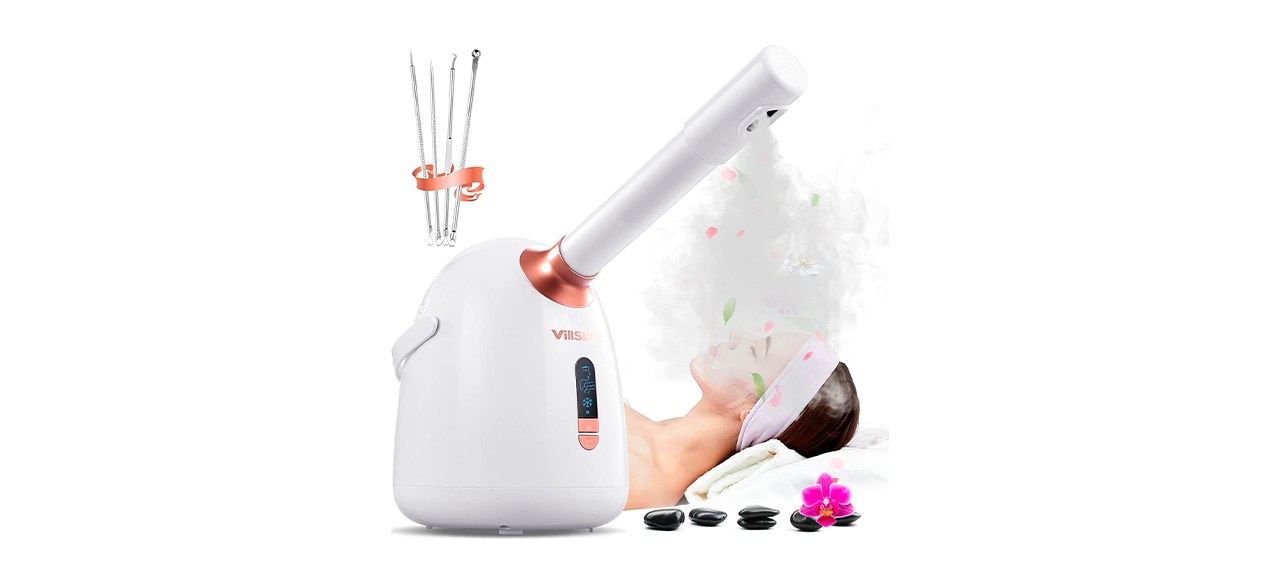 Villsure Hot/Cool Facial Steamer
This unique steamer comes with an extendable arm that offers warm or cold steam. The arm can rotate to your liking. It has added perks such as an LCD screen and chamber to add essential oils.
Sold by Amazon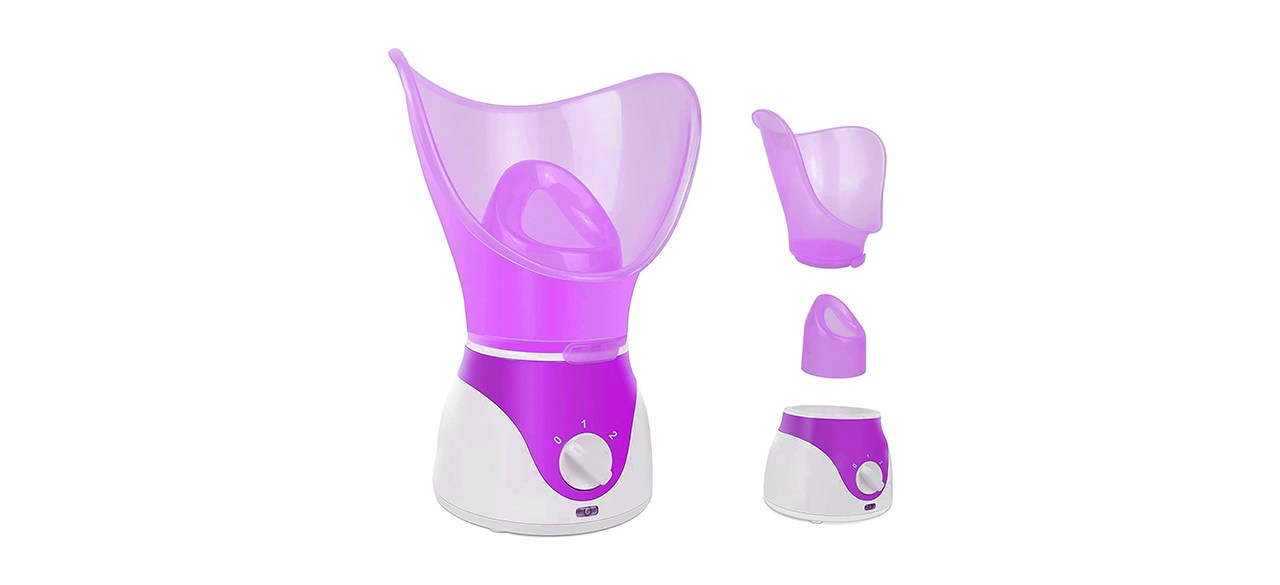 For a bargain price, this is an excellent steamer for both facial and sinus use. It includes two nozzles: one for skin care and the other for nasal congestion. The water heats up quickly.
Sold by Amazon
Want to shop the best products at the best prices? Check out Daily Deals from BestReviews.
Sign up here to receive the BestReviews weekly newsletter for useful advice on new products and noteworthy deals.
Ana Sanchez writes for BestReviews. BestReviews has helped millions of consumers simplify their purchasing decisions, saving them time and money.
BestReviews spends thousands of hours researching, analyzing and testing products to recommend the best picks for most consumers.
Copyright 2023 BestReviews, a Nexstar company. All rights reserved.