Snail secretions are said to have hydrating and protective properties for skin
If you follow skin care trends, you may have noticed products containing snail mucin gaining popularity as of late. The ingredient, also known as snail secretion filtrate, has been popping up in serums, creams, eye masks, face masks and more. And yes, it's actually referring to the slimy substance that snails secrete as they move. So why is this seemingly gross ingredient so popular right now? We asked board-certified dermatologist Dr. Allison Leer to give us the facts. And it's certainly popular — 100K people have purchased this snail mucin serum from Amazon so far this month alone.
Shop this article: CosRX Snail Mucin 96% Power Repairing Essence, Mizon Snail Repair Intensive Ampoule, Tonymoly Intense Care Gold Snail Eye Mask Pot
Why is snail mucin thought to be good for skin?
"Snail mucin contains hyaluronic acid, glycolic acid and glycoproteins which all have properties that benefit your skin," Leer says. "Additionally, snail mucin has humectants that keep your skin hydrated and antioxidants which improve the skin's protective barrier."
Snail mucin's main benefits are believed to be hydration and anti-aging.
"Snail mucin has anti-aging effects, as it increases the generation of collagen, which makes your skin look more youthful," Leer adds. "The hyaluronic acid found in snail mucin hydrates the skin and helps with fine line and wrinkles. Lastly, the snail secretion can help reduce scarring if you suffer a cut or scrape."
How much research has there been on snail mucin?
It's important to note that snail mucin's benefits on skin have not been definitively proven.
"There isn't a lot of research on the effectiveness of snail mucin," Leer says. "Many of the conclusions reached are based on the composition of the secretion. Well-funded tests with a large number of participants would be needed for us to fully understand the product's effectiveness."
Despite the lack of research, the risks of using snail mucin-based products should be relatively low.
"Like all skin care ingredients, certain individuals may have allergies, but there is nothing specific in snail mucin that leads to irritation or adverse outcomes," Leer says. Those with shellfish allergies may want to consult their doctor or dermatologist first.
Best ways to incorporate snail mucin into your skin care routine
Snail mucin can be found in a wide variety of skin care products, so there are many ways to incorporate this ingredient into your skin care routine. In general, leave-on products such as serums, face creams or face masks tend to be more powerful than wash-off items such as cleansers.
"Typically, the most effective snail mucin products are found in a serum," Leer says.
Another important factor is how much snail mucin is in the specific product's formula. "Check the label, which should include the concentration of snail mucin," Leer advises, noting that many labels denote the ingredient as snail secretion filtrate rather or snail mucin. "The larger the percentage [of the ingredient], the higher up on the label the ingredient will be."
When researching or shopping for snail mucin-based skin care products, look for brands that harvest snail mucin in a safe and environmentally friendly fashion that doesn't harm any snails in the process. Many brands reference their harvesting practices directly on the label.
Best snail mucin skin care products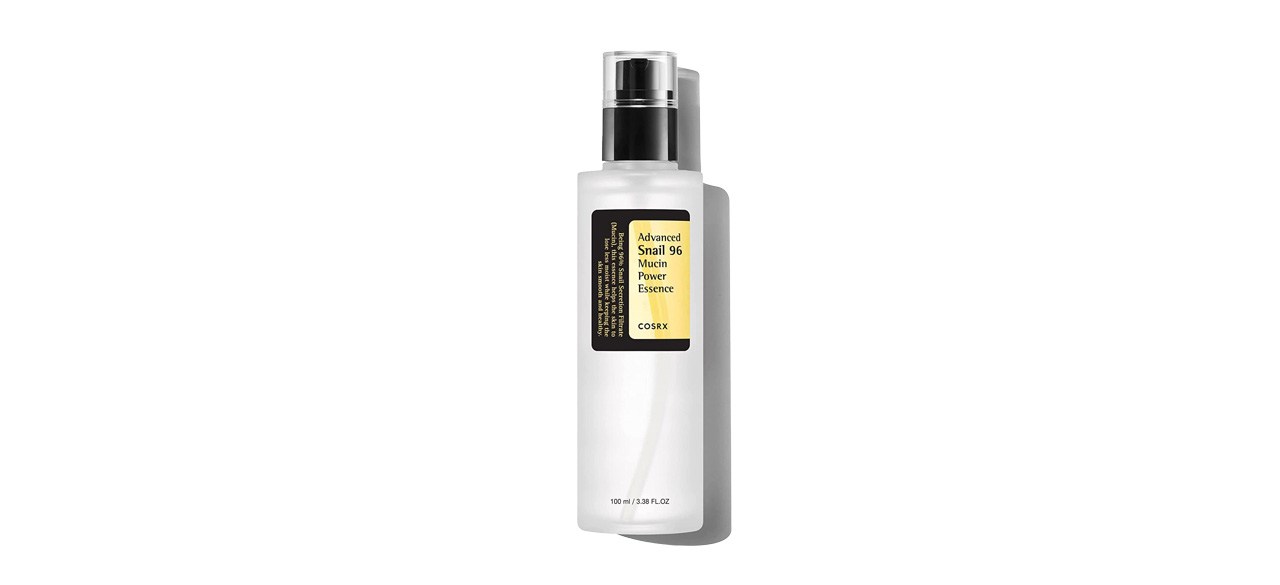 CosRX Snail Mucin 96% Power Repairing Essence
Formulated with 96.3% Snail Secretion Filtrate, this essence is designed to keep skin dryness and aging at bay. The lightweight product absorbs quickly into the skin yet delivers long-lasting hydration. It also helps to reduce the size of pores. And yes, over 100K buyers have purchased this product this month — and it's on sale for October Prime Day for 43% off.
Sold by Amazon and Ulta Beauty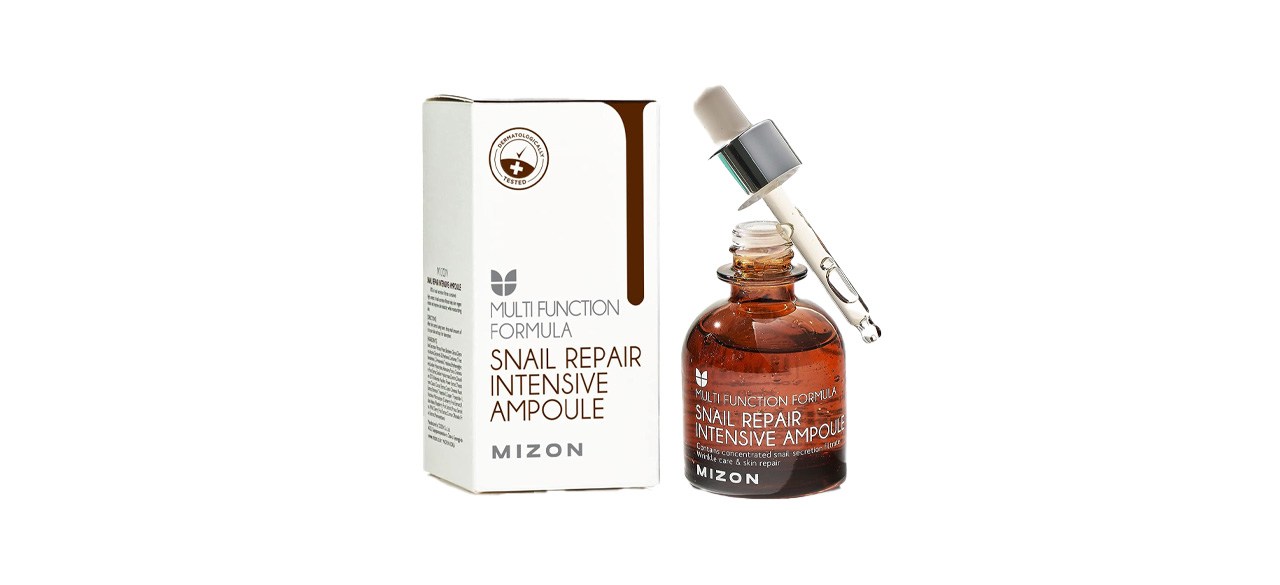 Mizon Snail Repair Intensive Ampoule
Designed for sensitive skin, this moisturizing serum targets fine lines and wrinkles with peptides, golden thread, vitamin E and vitamin B5. It contains over 80% snail secretion filtrate as well as hyaluronic acid, which works to keep your skin moisturized.
Sold by Amazon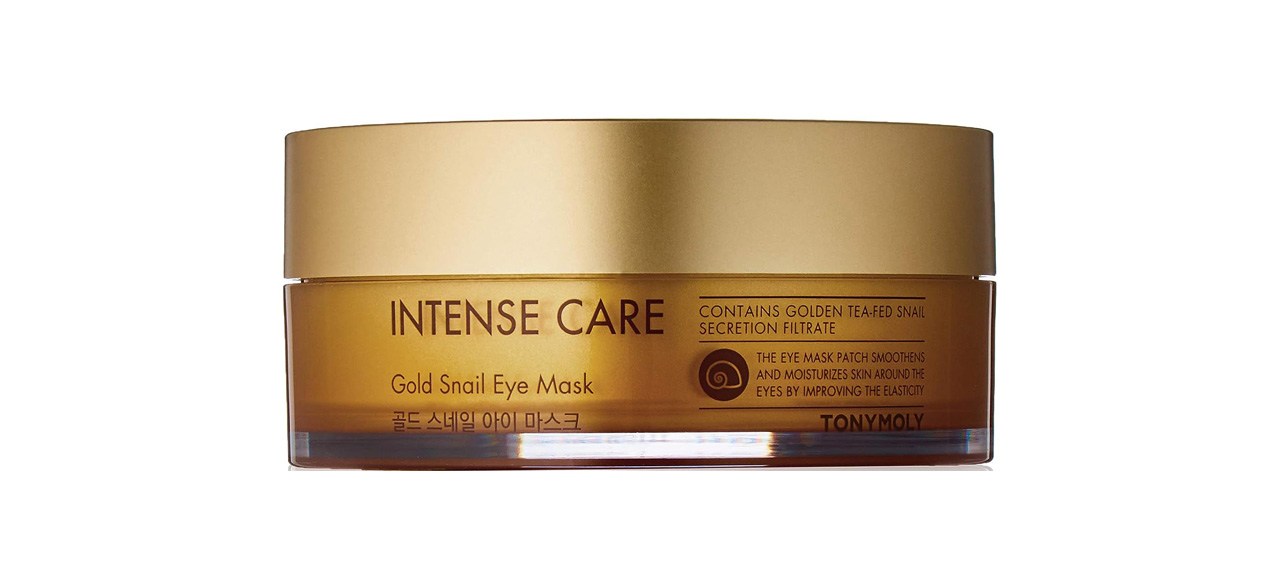 Tonymoly Intense Care Gold Snail Eye Mask Pot
In these soothing eye patches, fermented snail mucus is combined with brightening 24-karat gold in a formula designed to awaken and rejuvenate your delicate under-eye skin. The pot includes 30 pairs of gel pads that help encourage collagen production.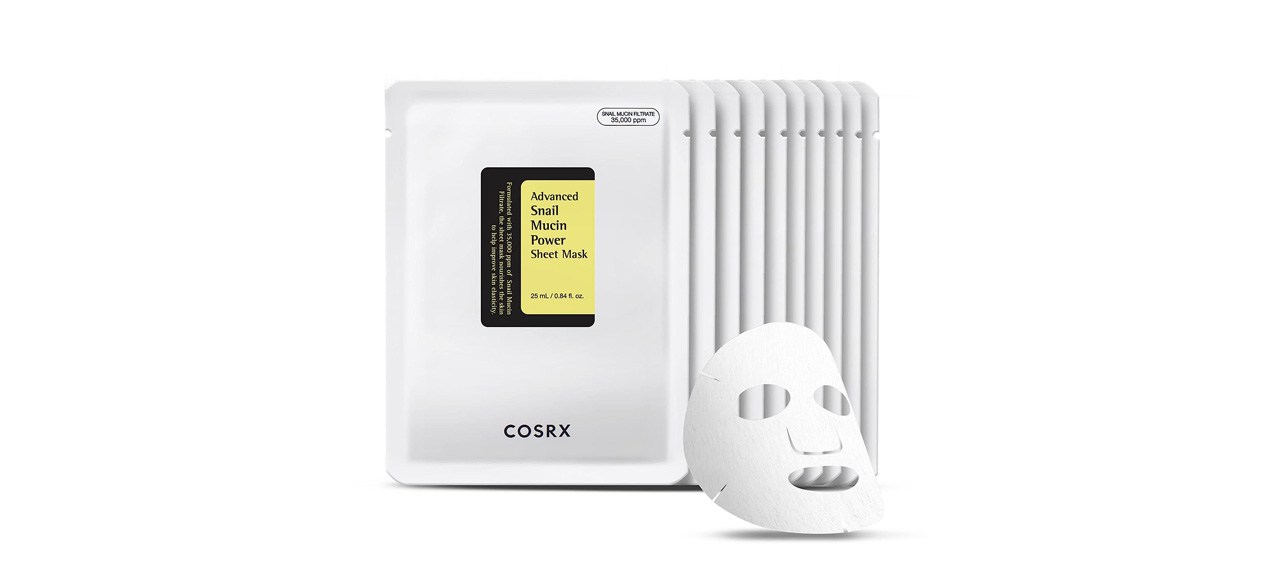 Sold in a 10-pack, these sheet masks are drenched with COSRX's bestselling snail 96 mucin power essence to deliver hydration and nourishment, while also repairing damaged skin and helping to lighten acne scars. When applied to skin, the masks have an instant soothing sensation.
Sold by Amazon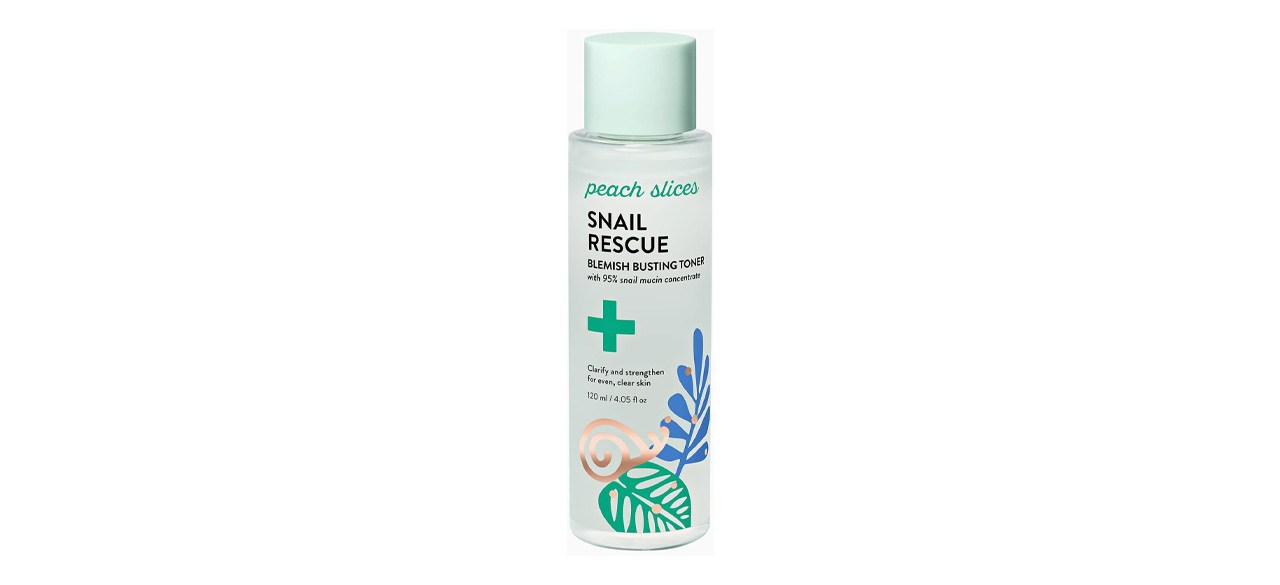 Peach Slices Snail Rescue Blemish Busting Toner
If oily or acne-prone skin is your skin concern, this toner with 95% snail mucin and cica can help. It's designed to clear and minimize the look of pores, eliminate zits, calm signs of redness and strengthen your skin barrier.
Sold by Amazon, Ulta Beauty and Peach & Lily
Want to shop the best products at the best prices? Check out Daily Deals from BestReviews.
Sign up here to receive the BestReviews weekly newsletter for useful advice on new products and noteworthy deals.
Talia Ergas writes for BestReviews. BestReviews has helped millions of consumers simplify their purchasing decisions, saving them time and money.
Copyright 2023 BestReviews, a Nexstar company. All rights reserved.