IN THIS ARTICLE:
Camping may bring to mind roasting food on a stick over a fire, but there are times when a campfire isn't an option. This could be either due to a burn ban or because you have a more elaborate camping experience in mind. The right camp stove can make your camping trip easier and more comfortable whether you only need to boil water or you're planning an outdoor feast.
Camp stove types
There are three types of camp stove:
Two-burner: For casual camping, two-burner stoves are excellent for their ability to let you multitask. Make breakfast while water is boiling for coffee or cook your meat and meatless options separately. Two-burner stoves tend to be heavy, but they're convenient and easy to use since they're like home grills.
Single-burner: If you have a simple camp menu and want to save space — and don't want to scale all the way down to a backpacking stove — a single-burner stove is a great pick. These are generally lighter and more affordable than two-burner stoves, but they still offer enough power for easy cooking.
Backpacking: Managing weight is crucial on a backpacking trip, so backpacking stoves tend to be significantly lighter and smaller. Some ultralight stoves let you use alternative fuels, such as denatured alcohol or even twigs collected on your hike. They're compact, lightweight and simple to use, but they can be tippy, and some fuel options perform better than others.
Camp stove fuel
There are several types of camp stove fuel:
Liquid: Widely available, liquid fuels are a common sight with standard camp stoves. For an alpine expedition, a liquid-gas-fueled camp stove is preferable. These stoves perform better in the cold and at high elevations. Some liquid fuel stoves let you use a variety of fuels, so you don't have to worry about sourcing a specific one. These refillable canisters are more eco-friendly but they also add weight and bulk.
Canister: These are popular for backpacking. They are more convenient since they include pre-measured, pre-pressurized gas canisters attached to the stove. They heat up and cook food quickly. However, the fuel is more expensive and less widely available. It's also harder to tell how much fuel you have left in the canister.
Other: Some camp stoves let you use wood gathered from your surroundings rather than having to pack a fuel canister. Others use wood pellets, denatured alcohol or even solar power. Wood and other biomass stoves generally have a slower cooking time, and some areas don't allow the use of biomass-burning stoves.
Camp stove features
Burn time: When you review camp stove specifications, burn time should be on the list. This tells you how long the stove can run on a given fuel type. If you're camping near civilization rather than backpacking, you may not need to worry about burn time as much.
Boil time: This statistic tells you how fast a stove can bring a specific amount of water (usually 1 liter) to a boil. This number is usually more relevant to backpackers than casual campers since backpackers need this information to determine how much fuel to bring. However, if you're planning on a crab boil or another large, intensive dish, knowing the stove's boil time can help you time your meals correctly. It can also help you avoid running out of fuel.
Weight: If you're car-camping, your stove's weight may not matter much. If you're hiking a few miles to your campsite, however, schlepping a heavy two-burner stove may not be ideal. Check the stove's weight, and make sure to factor in the weight of fuel if it doesn't come with the stove.
Igniter: Some camp stoves have self-igniting features, while others must be lit with a match or lighter. Self-igniting stoves are user-friendly, but igniters are among the most failure-prone components of a camp stove. Be sure to pack matches so you can still start your stove in the event of an emergency.
FAQ
Which camp stove fuel is best?
A. The best camp stove fuel depends on factors such as cost, availability, burn efficiency, weight and more. For example, propane is widely available and good to use in cold weather, while isobutane is lightweight and easy to store. Canister fuels are lightweight but pricey, while liquid fuels are cheaper but less user-friendly.
Are camping stoves usable indoors?
A. Camping stoves make excellent backup cooking appliances in the event of a power outage at home. Whether a camp stove is safe to use indoors depends on its fuel type. Many fuels, including propane and white gas, are not usable indoors because they produce carbon monoxide. Stoves that burn biomass, alcohol or butane are usually usable indoors with proper ventilation. Check your stove's manual to make sure.
Top camp stoves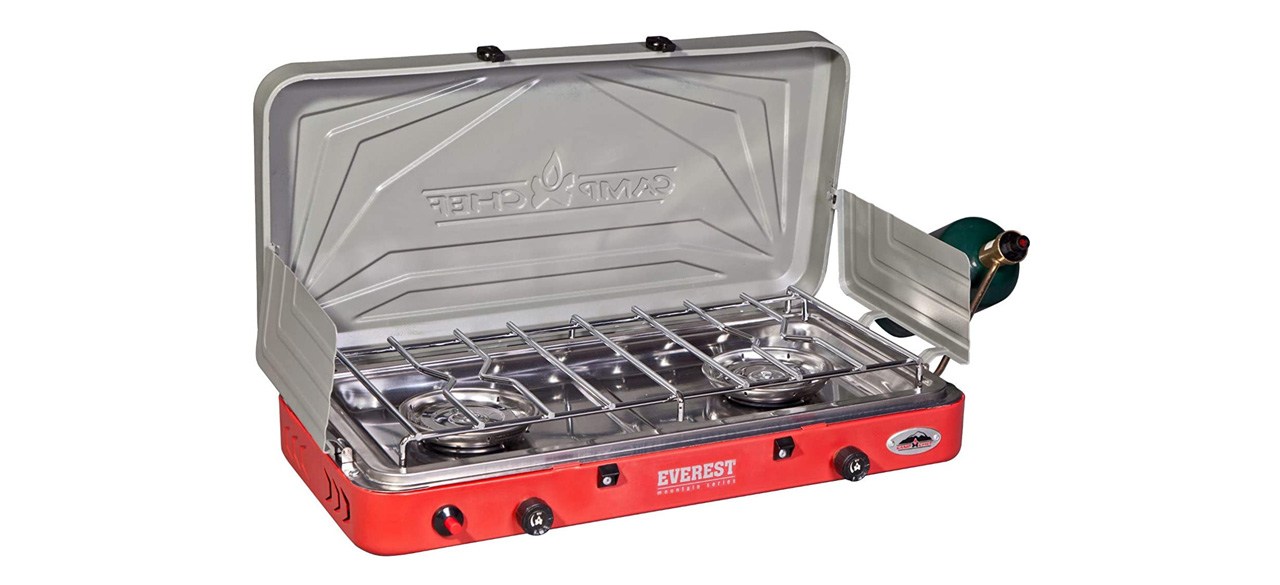 Camp Chef Everest Two-Burner Stove
With its powerful 20,000 Btu burners, this stove offers almost the same performance as your grill at home. Its matchless ignition and tall windscreens make it easy to use. The stove also features a stainless steel drip tray and a nickel-coated steel grate.
Sold by Amazon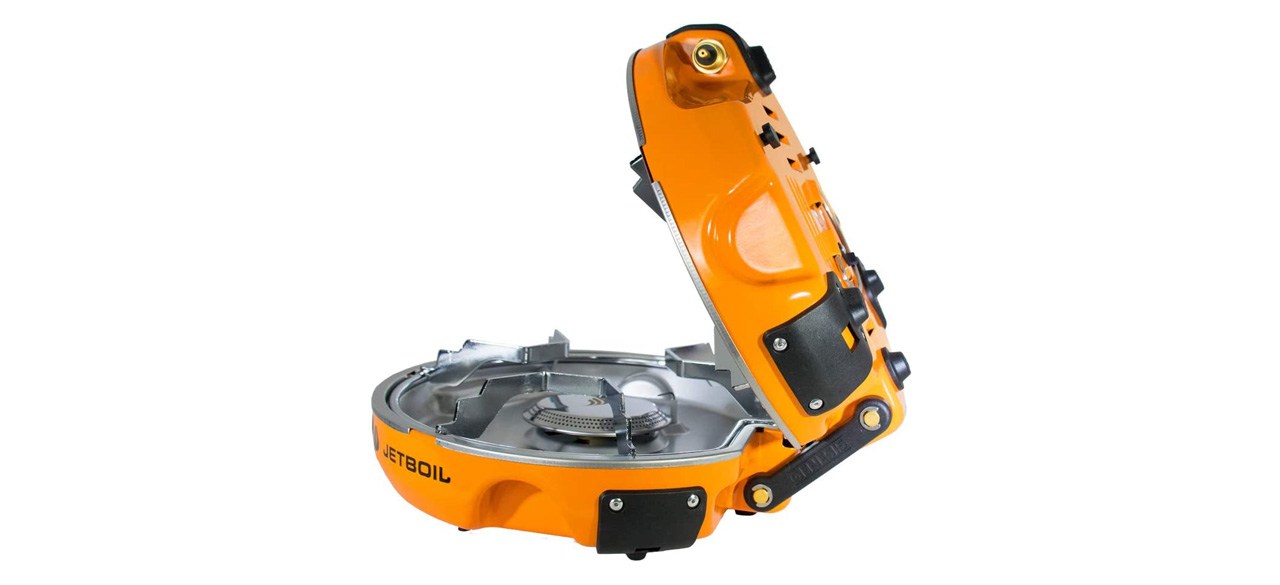 Jetboil Genesis Two-Burner Stove
Weighing a little over 6 pounds, this small but mighty stove folds up for easy portability. It runs on standard propane bottles and is connectable to other Jetlink-compatible burners for a larger cooking area.
Sold by Amazon and Backcountry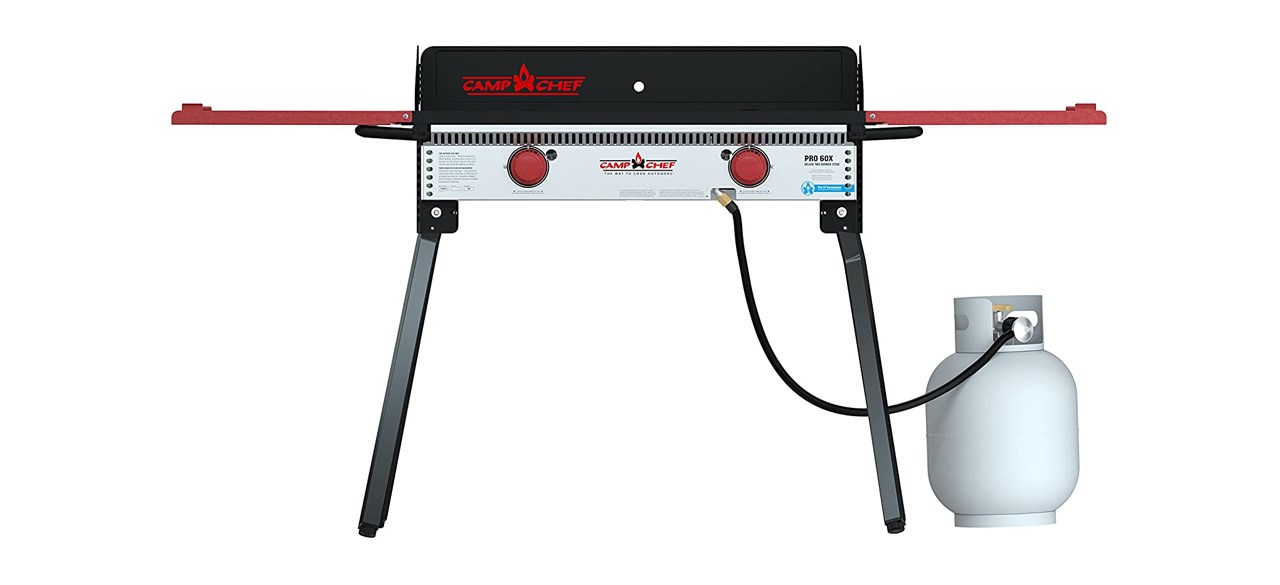 Camp Chef Pro 60X Two-Burner Stove
This stove offers everything you need for a luxurious campsite meal: push-button ignition, a three-sided windscreen, two 30,000-Btu burners, adjustable legs and dual prep shelves. It folds down for easier transport.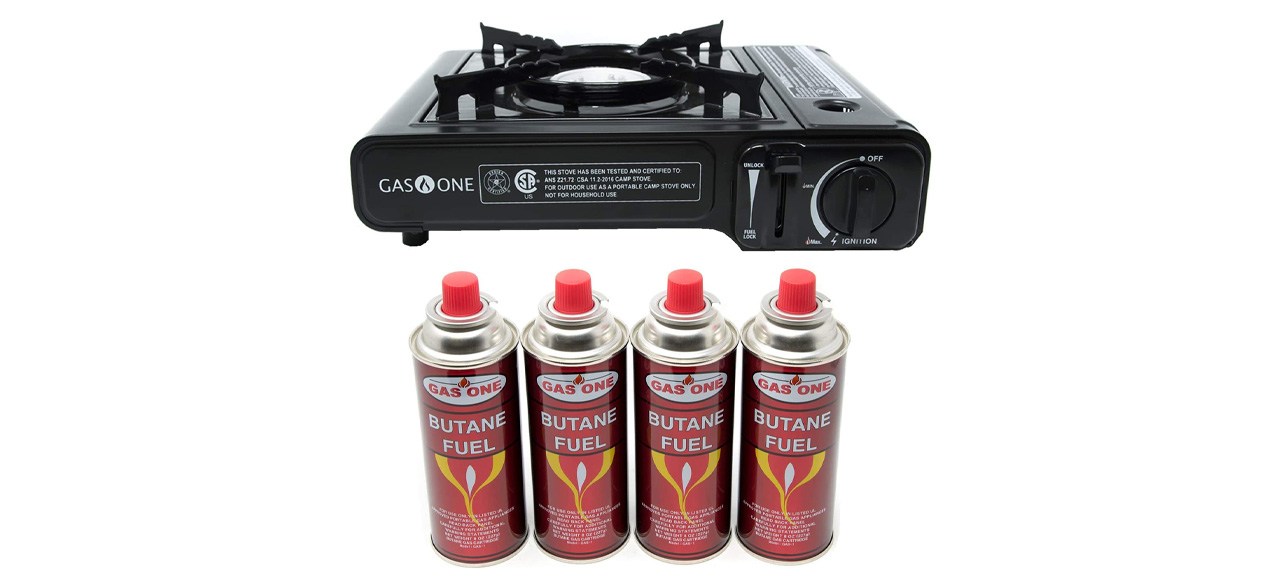 Gas One GS-3000 Single-Burner Stove
This single-burner stove boasts 9,000 Btu and runs on butane. At 3 pounds, you can take it anywhere. It offers great simmering control, easy-to-clean surfaces and automatic safety shut-off.
Sold by Amazon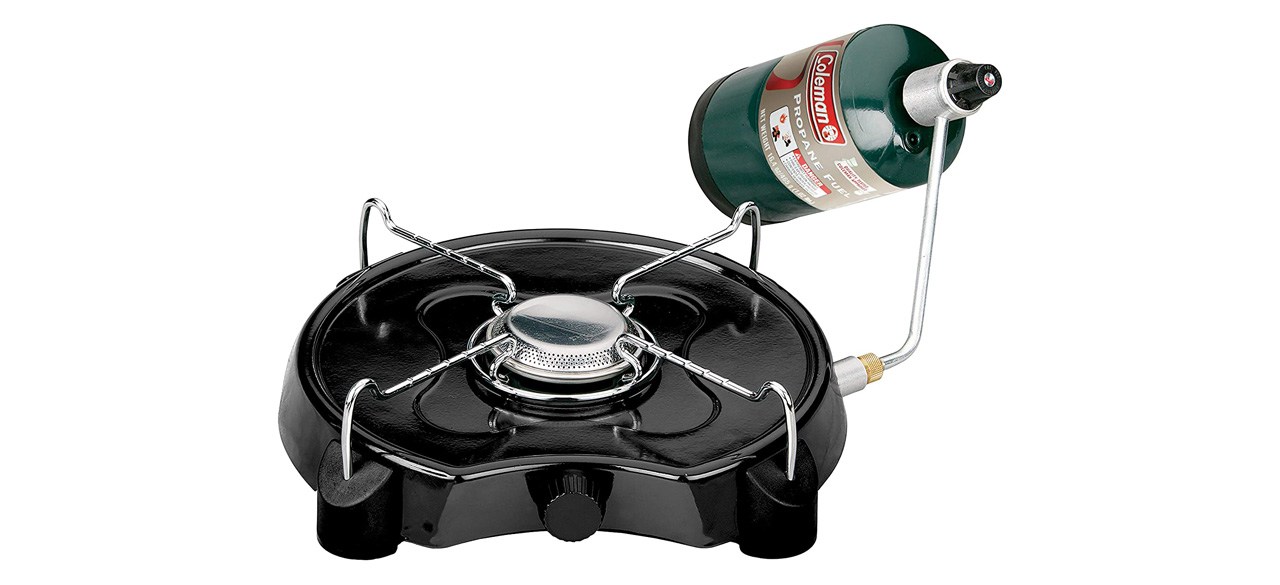 Coleman PowerPack Propane Single-Burner Stove
The chrome-plated grate on this stove is easy to clean and wide enough to accommodate a 12-inch pan. It features a pressure regulator for consistent cooking and runs on standard propane bottles. It's straightforward to use, but you'll need a lighter to start it.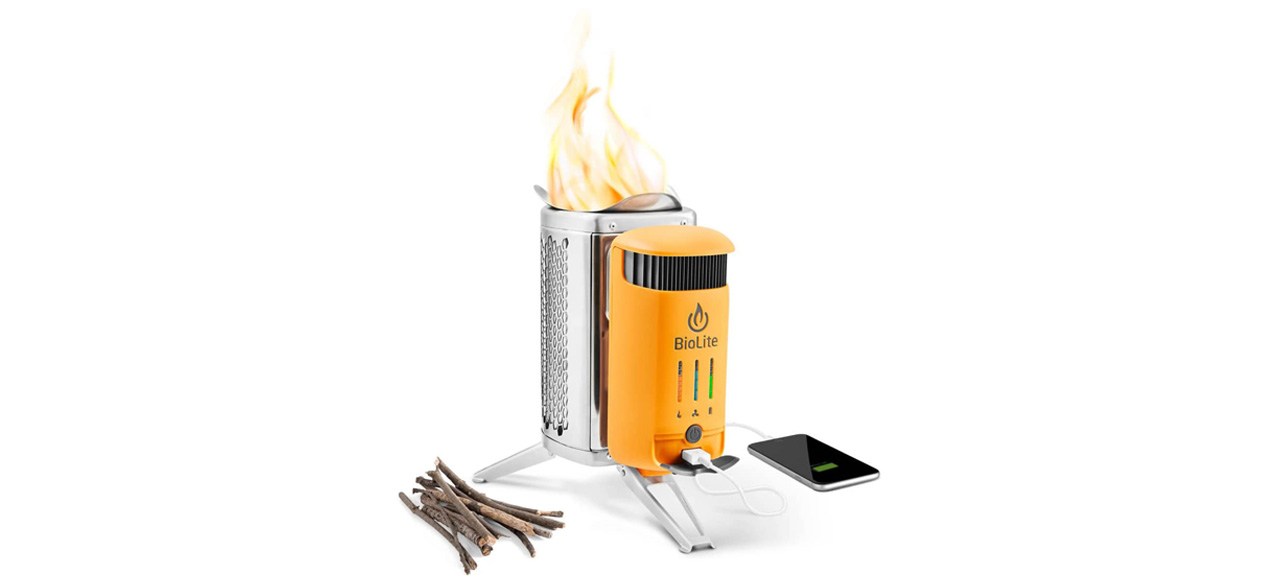 This high-tech, lightweight stove not only runs on gathered twigs, it even generates electricity to charge your devices. It helps leave a smaller carbon footprint, and since you don't have to pack fuel, it reduces your gear weight.
Sold by Amazon and Backcountry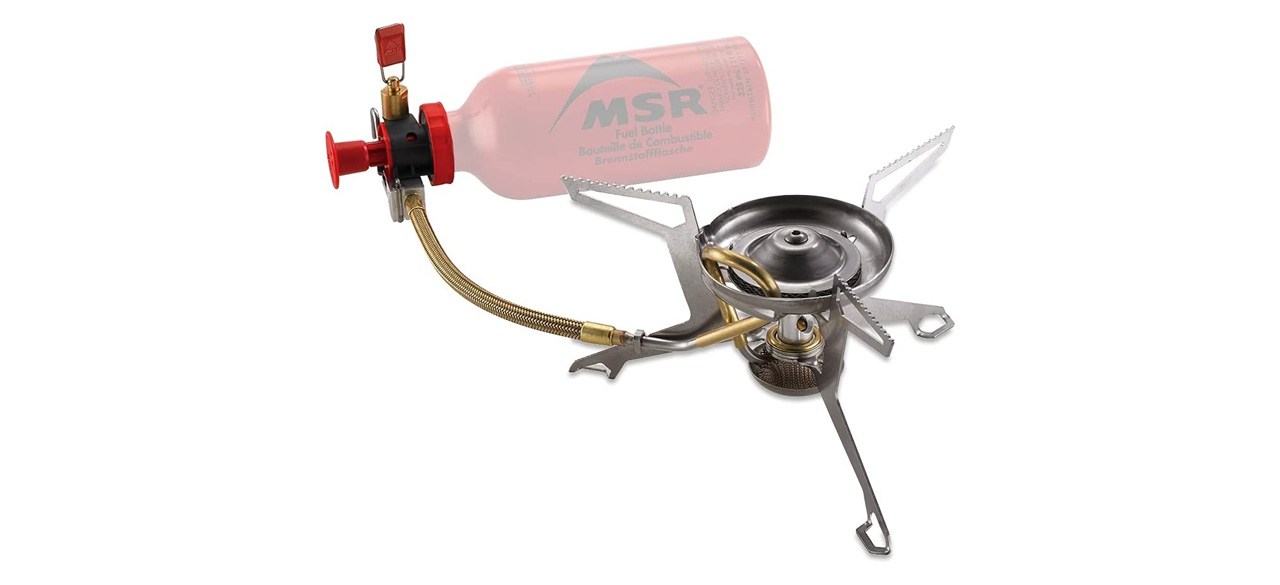 MSR WhisperLite International Multifuel Stove
This lightweight backpacking stove can run on a variety of fuels — even unleaded gas. The self-purging fuel pump prevents leaks and uses refillable fuel bottles.
Sold by Amazon and Backcountry
Want to shop the best products at the best prices? Check out Daily Deals from BestReviews.
Sign up here to receive the BestReviews weekly newsletter for useful advice on new products and noteworthy deals.
Laura Duerr writes for BestReviews. BestReviews has helped millions of consumers simplify their purchasing decisions, saving them time and money.
Copyright 2023 BestReviews, a Nexstar company. All rights reserved.