This is an archived article and the information in the article may be outdated. Please look at the time stamp on the story to see when it was last updated.
The unassuming water bottle, previously only common at sporting events and gyms, has ridden the fitness wave to become just as fashionable as athletic apparel, step counters and tennis shoes. While everyone agrees that staying hydrated is important for good health, reusable water bottles can become filled with germs and bacteria. To keep your containers hygienic and prevent illness, you need to clean them inside and out with a bottle brush.
In this article: Turbo Bottle Brush Cleaner Pack, Oxo Good Grips Bottle Brush and Kitchiny Silicone Bottle Brush.
Clean your water bottle regularly
Because water bottles are placed on surfaces that can include gym floors and public tables, they pick up all kinds of harmful microbes you wouldn't expect. Bacteria from your mouth can also multiply to dangerous levels inside of them and their damp, dark interiors can harbor mold growth.
Cleaning your water bottle with a brush and antibacterial soap after every use will keep germs in check and odors at bay.
Where germs thrive in your water bottle
The interior. The inside walls and bottom of your water bottle can develop a film of bacteria without daily cleaning. Old plastic bottles can also have microscopic cracks in them where germs can hide out.
The threads. The area where the top screws onto the mouth of your water bottle can accumulate germs and beverage residue.
The straw. Many people disregard cleaning the thick straws that some water bottles use, making them havens for bacteria.
The cap. Caps with drink holes or retractable spouts have a lot of surface area and tight spaces where germs and debris can build up. Even if your bottle has a basic cap that you don't put your mouth on, it still regularly gets exposed to the outside world and the germs that come with it.
Bottle brush types
Nylon brushes are the most common type of bottle brush. They have nylon bristles that are either threaded through a metal wire or fused into a plastic stem. Their bristles can be coarse or soft, depending on the brush you choose.
Silicone brushes are pricier than nylon ones. They are easier to clean and sterilize, thanks to their smooth surfaces free of nooks and crannies. Unlike nylon brushes, silicone ones carry no risk of scratching or removing paint from your bottle.
Straw brushes are thin and narrow. They're made to fit into water bottle straws to clean their interiors but they can also be used to scrub threads, caps and spouts.
Foam brushes aren't the best for cleaning, as their sponges can hang on to microbes and odors. However, if you're especially concerned about scratches they're still ok to use as long as you disinfect them between washes.
Best water bottle brushes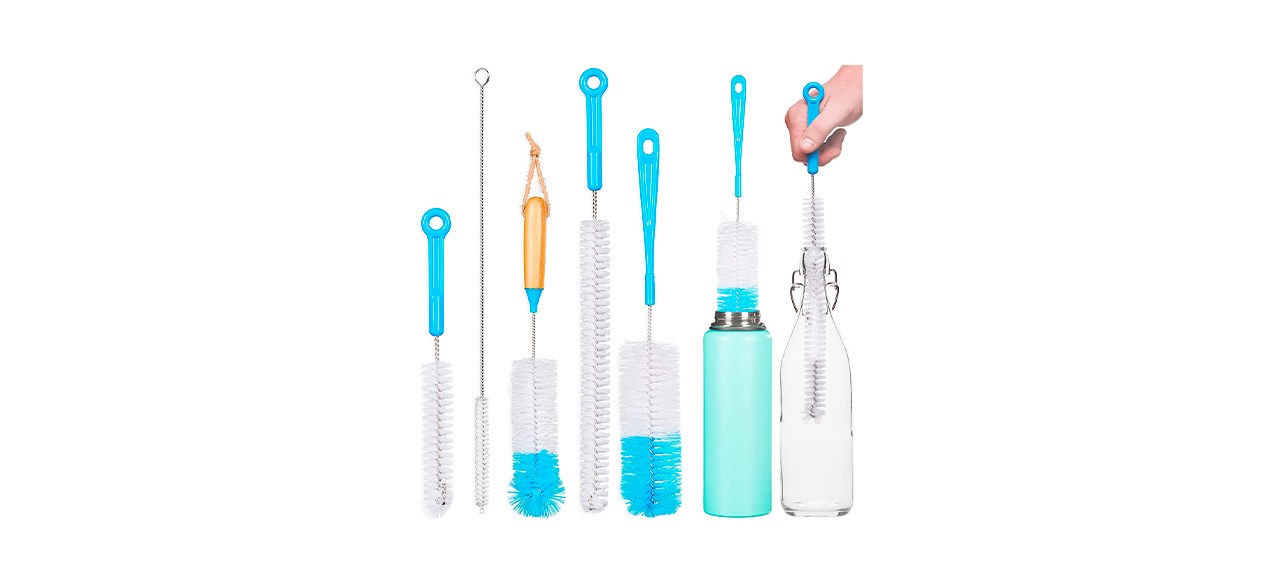 Turbo Microfiber Bottle Brush Cleaner Pack
This pack includes two long brushes for deep bottles, a straw brush, a narrow brush for tight spaces and a small one that you can use for spot cleaning. Plastic handles, nylon bristles and stainless steel wire make each option safe to clean and disinfect in the dishwasher.
Sold by Amazon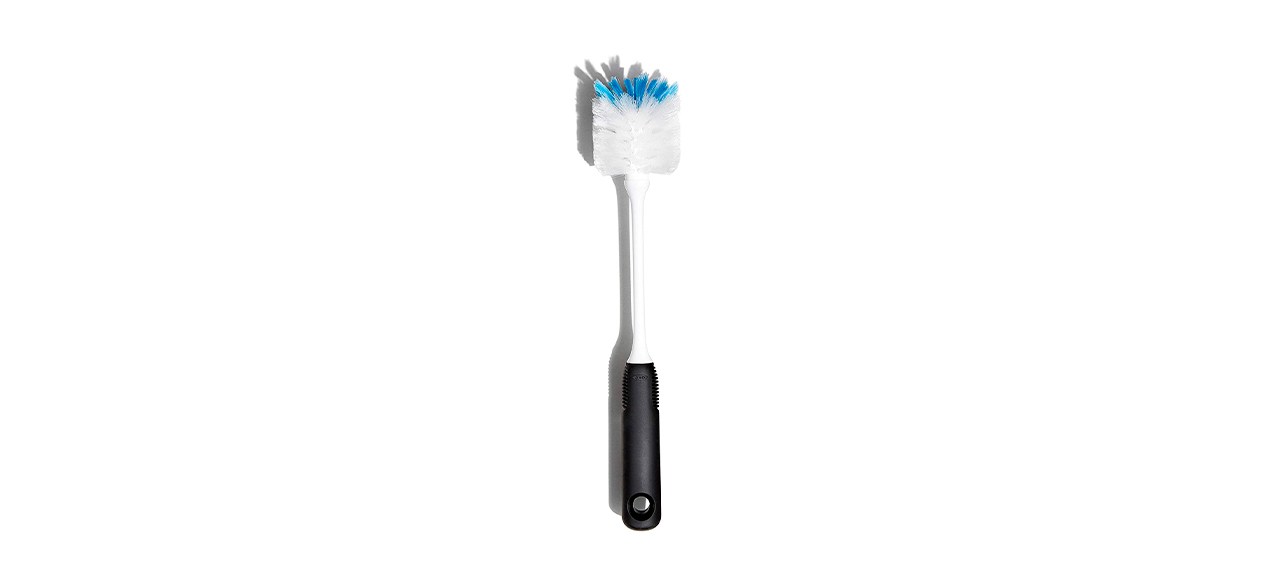 With its thin stem and oversized head, this brush is great for cleaning bottles with narrow necks or small openings. A rubberized handle prevents slipping under wet, soapy conditions and two bristle types allow for gentle cleaning as well as hard scrubbing.
Sold by Amazon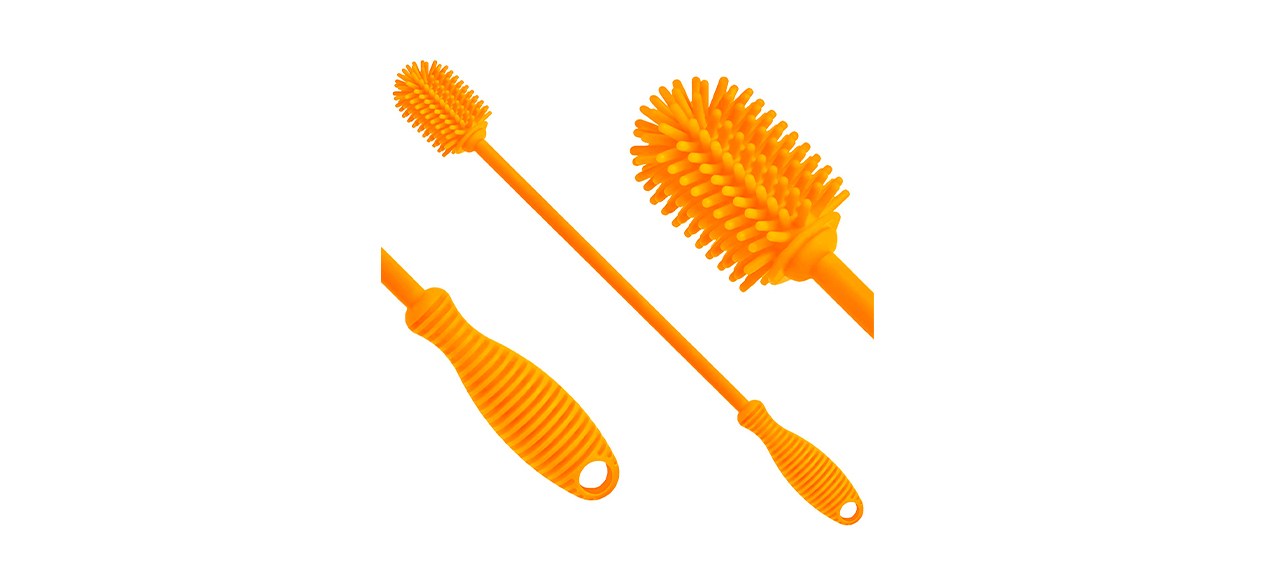 Kitchiny Silicone Bottle Brush
At 12.5 inches in length, this silicone brush can reach deeply into large water bottles to scrub the bottom. A steel rod in its handle keeps it rigid while you clean and you can sanitize it on the top rack of your dishwasher.
Sold by Amazon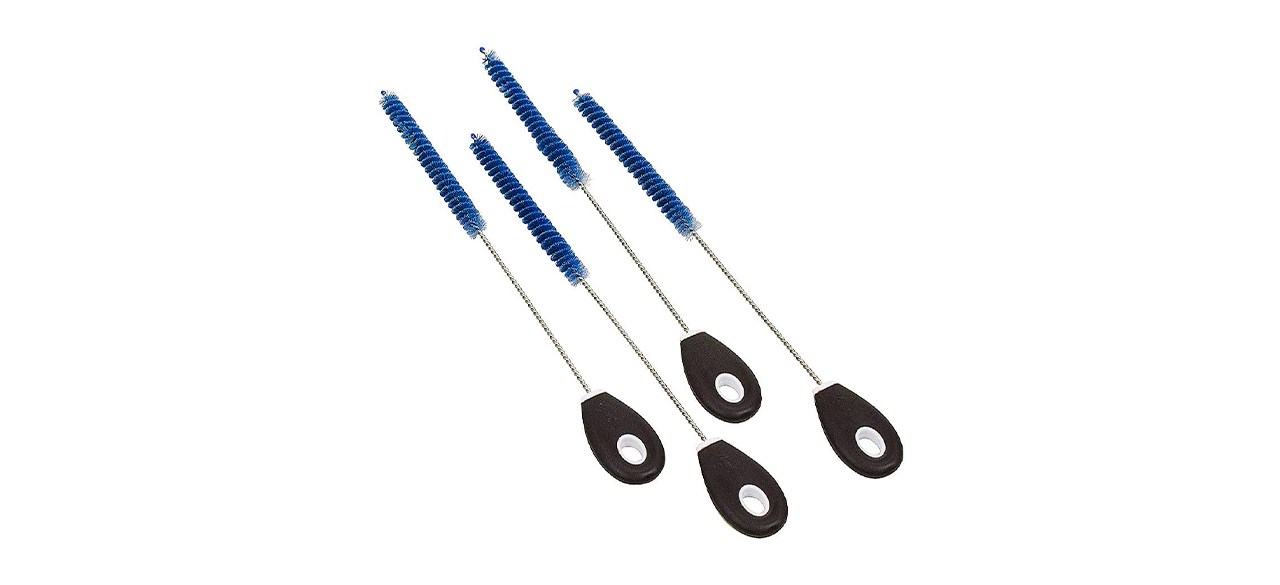 Quickie Full-Length Straw Brushes
This pack includes four narrow brushes that will fit into most water bottle straws, holes and nozzles. Generously sized handles make them easy to use and control, in spite of their small size.
Sold by Amazon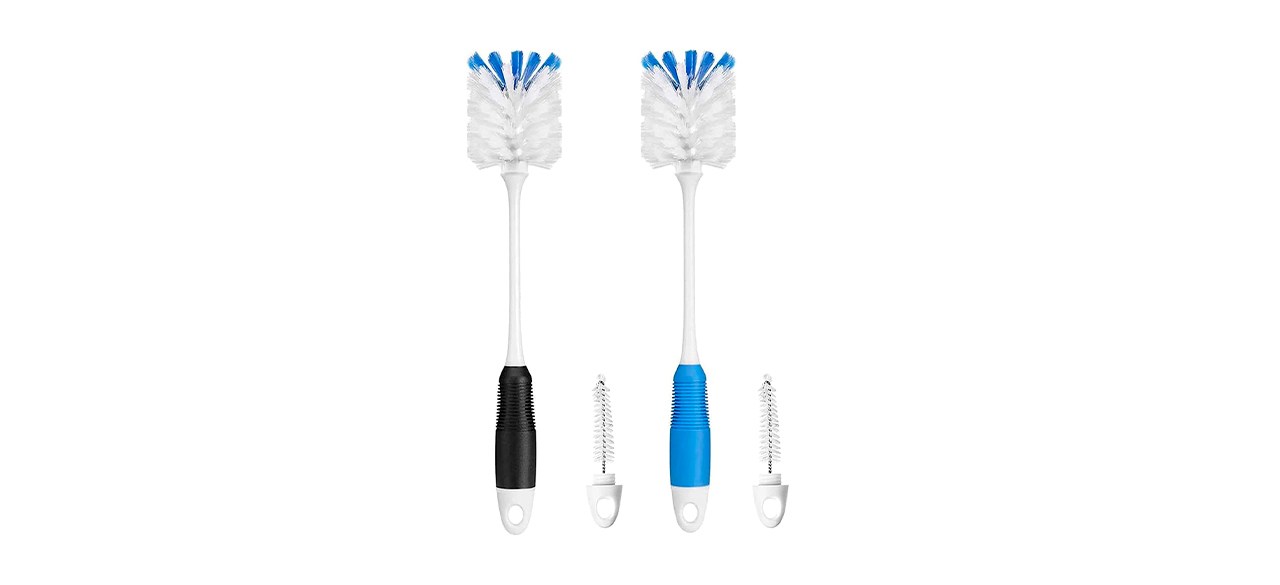 Two brushes are included in this set, both featuring coarse and soft bristles. Each brush's handle conveniently stores a miniature one that you can use to clean everything from baby bottle nipples to the threads on the top and cap of your water bottle.
Sold by Amazon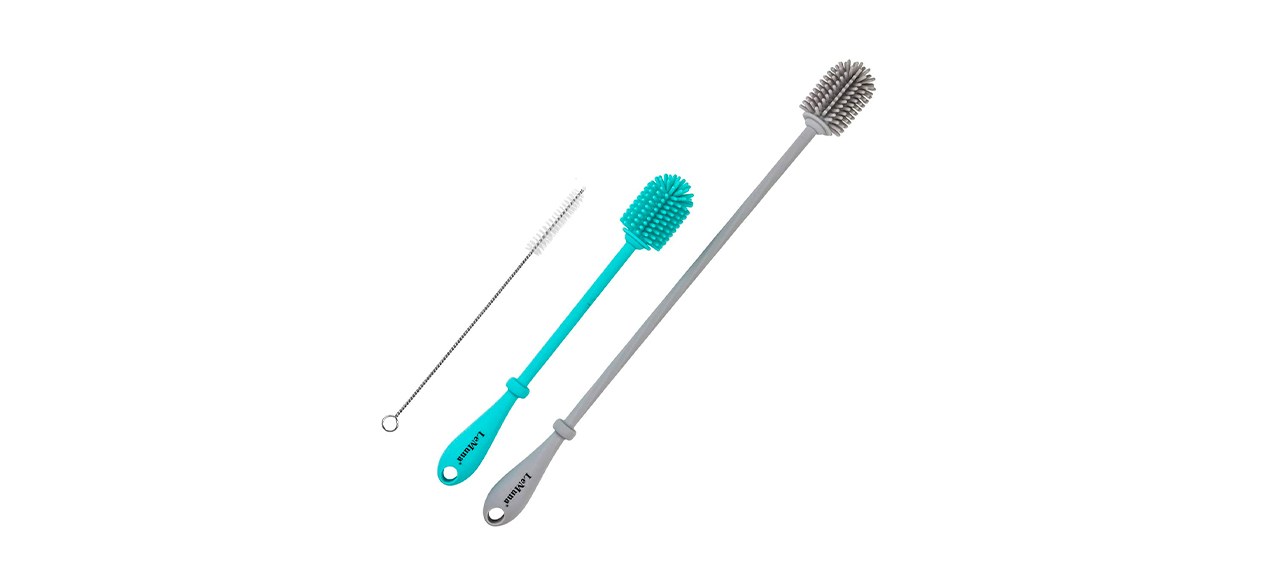 LeMuna Silicone Bottle Brush Set
This kit includes a pair of silicone brushes and a single nylon straw brush. At a whopping 15 inches in length, the longer of the two silicone brushes can reach into just about any bottle or jar in the kitchen.
Sold by Amazon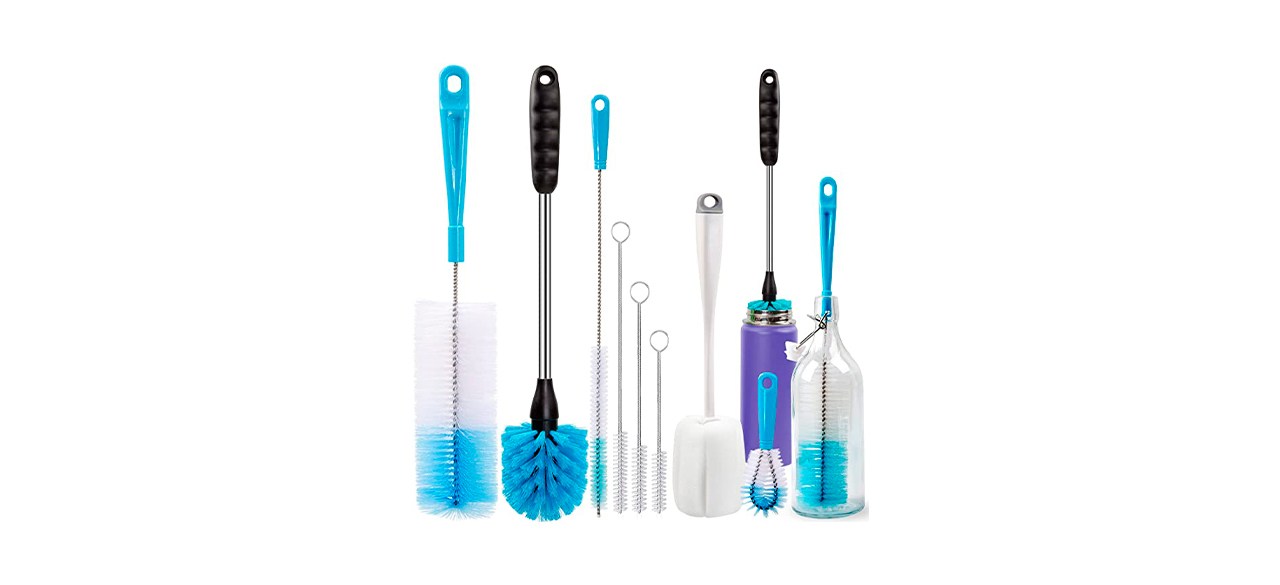 Holikme Bottle Brush Cleaning Set
You can leave no container uncleaned equipped with this assortment of eight brushes. Four straw brushes, a sponge brush and a nylon brush designed for especially tricky beer and wine bottles differentiate this kit from competing sets.
Sold by Amazon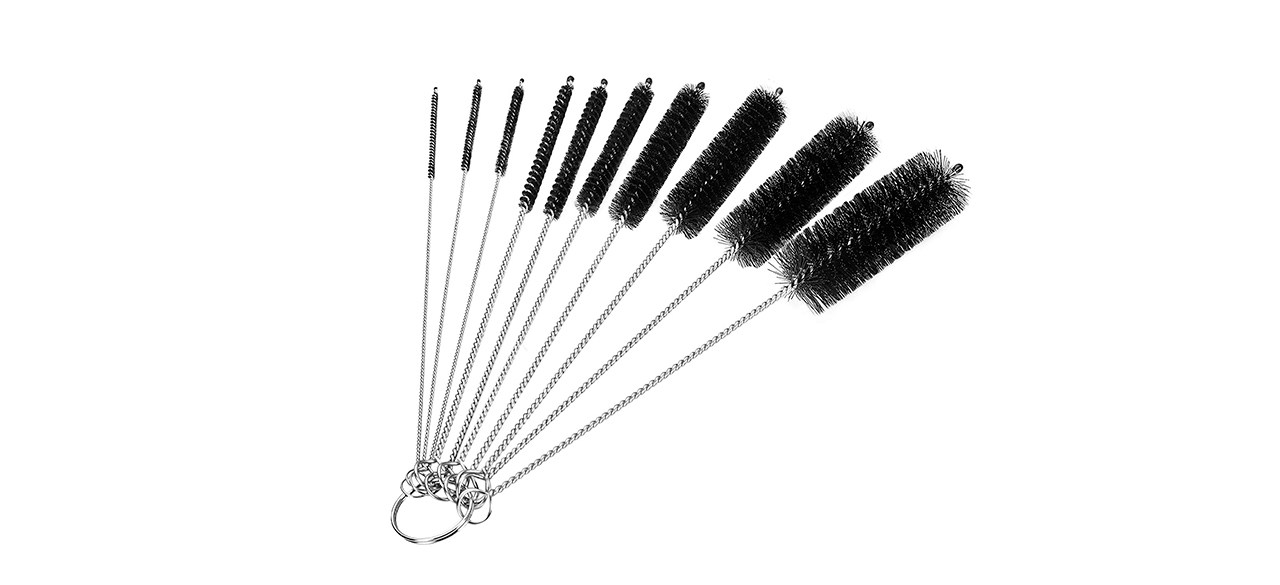 CiaraQ Bottle Cleaning Brush Set
These eight thin nylon brushes are best used for straw, thread and cap cleaning. They all hook onto a keychain loop to make them easy to hang and prevent you from losing any.
Sold by Amazon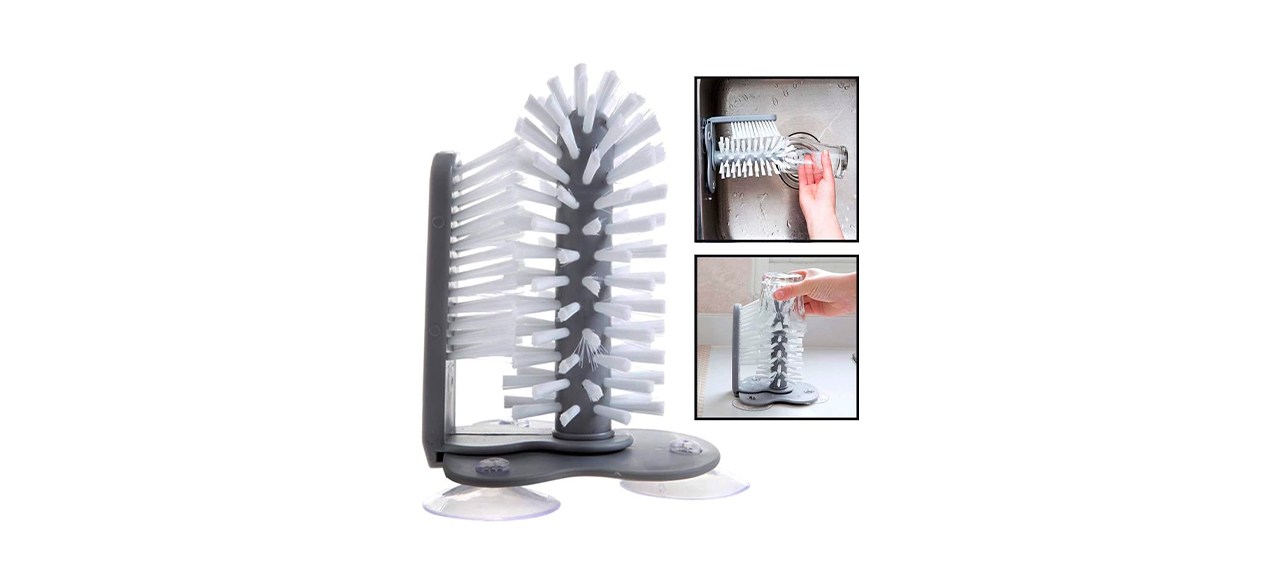 Feenm Water Bottle and Glass Cleaner With Suction Cup Base
You can stick this brush to the side of your kitchen sink or directly on the counter to make short work of bottle and glass cleaning with minimal effort. Three suction cups keep it firmly in place and dual brushes clean the inside and outside of your container at the same time.
Sold by Amazon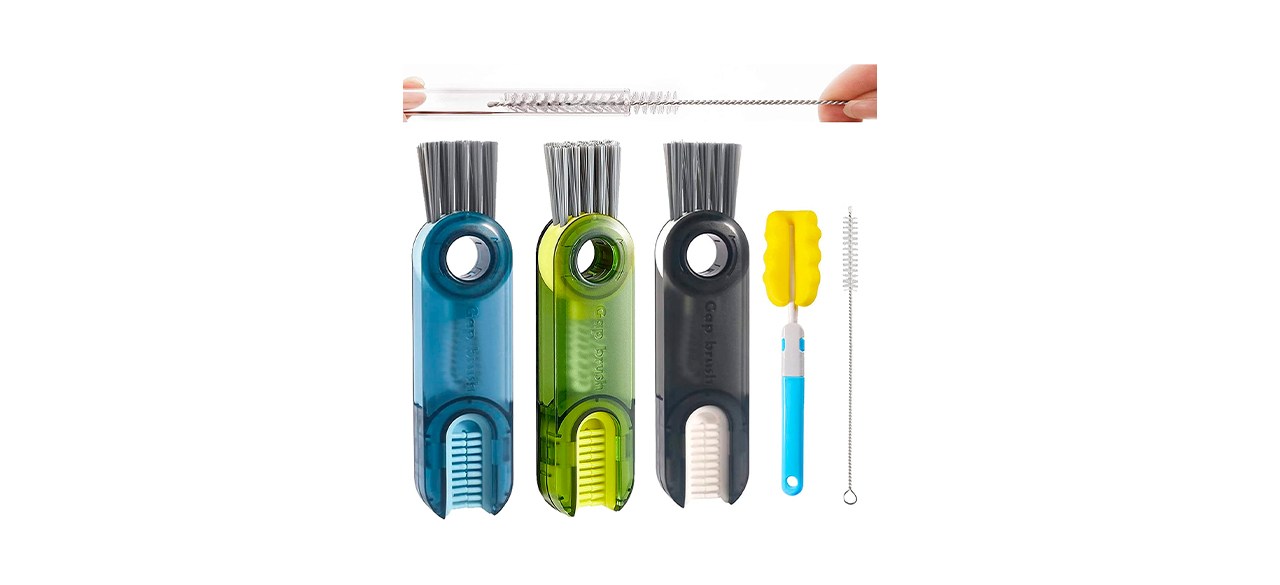 Pragatism 5-Piece Bottle Brush Set
This pack of five brushes includes a straw cleaner, a foam scrubber and three multi-purpose brushes made specifically to scrub the threads around the top of your water bottle. Their brush heads can be rotated to reveal other types of bristles, making them great for treating a variety of small, stubborn areas.
Sold by Amazon
Want to shop the best products at the best prices? Check out Daily Deals from BestReviews.
Sign up here to receive the BestReviews weekly newsletter for useful advice on new products and noteworthy deals.
Derek Walborn writes for BestReviews. BestReviews has helped millions of consumers simplify their purchasing decisions, saving them time and money.
BestReviews spends thousands of hours researching, analyzing, and testing products to recommend the best picks for most consumers.
Copyright 2023 BestReviews, a Nexstar company. All rights reserved.